Farmer Tan – Check
GPS Watch Tan – CheckFalling While Attempting To Go Uphill – Check
@Keilshammer, I am calling BS by the way. No way you make up the hill after the steps
from a dead stop, at least without some kind of trick. I was attempting the feat when in true Wasaga
style I unclipped the wrong side and gravity did the rest. I'm sure if the
Morton's are reading this, they will have fond memories of the ride where
Toronto people were falling like dominos. You will notice from the photo below
the new injury I get to add to my collection and once the grease was removed,
all those black marks became red mark. I
will dub this type of injury Chain Burn.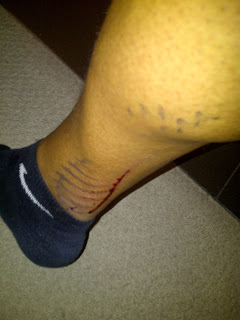 So this is day two of commuting this week (as promised) and I
survived even after Sheila went to town on me.
Let's talk about Sheila for a second.
She went to town on my legs and I nearly jumped off the table when she
went at my IT Bands. I had no idea what
an IT Band was until she pressed on it with her elbow. Mine was as tight as a
bow string and she ALMOST reduced me to tears… And that was even before she
went at the two rocks that were my calves. It hurt so good.
Now I'm going to jump topics here for a second and talk
about something very important. Normally
when I ride or train I don't carry ID which isn't a problem when you are riding
with friends, but solo… Bad idea. So I recently
ordered a ROADID bracelet. They allow
you to laser engrave six lines of text on either a nylon or silicone
bracelet. It's a great thing to have on
you. Not bad for $20. They were also
kind enough to provide me with a coupon code for a $1 off. If you are interested, go to
www.roaidid.com
and enter the
discount code ThanksBernie16253990.
If you do any training on your own, please do yourself a
favor and pick one up.
Back to today's little commuting adventure. I took five
minutes off my time going to work, but a minute slower on the way back. Total time 1h29m which is a four minute
improvement. Total calories burned was
2,158 and I had an average heart rate of
152BPM maxing out at 175BPM. Aside from the little close encounter with Mother
Earth, it was a really good ride. I felt
fast and focused on making sure to pull on the up pedal. Even the heat wasn't too bad today. I'm going to shoot for three rides next week,
but we'll have to see how the body feels.
Beez