So it has been over a month since I've been on the road
rocket and I've been dying to try out the new seat and speedfil. It has also
been a month of negative health in terms of legs, training and to a small
degree eating (referring to the McDonald's meltdown last weekend). Now that the
teachers, students, parents and ridiculous school bus drivers are off the road,
I want to start riding to work two to three times a week. That should give me about 90 kilometers a
week and some good training for the race in September. One way should be about
45 minutes and be in the neighborhood of 16KMs.
But, before you can ride, you need to find your path… and in
Toronto you want a path that keeps you away from the bulk of traffic.
Having received a 'rough' idea of where to go from
@Keilshammer I can make it once I get down to Leslie and Lawrence. So with my riding partner Andy we set off at
10a this morning for an exploratory mission. Part one was ok as it was on my
normal route home, but once we got to Bayview and York Mills, we were in
uncharted territory. After a 'small' off
road session (which is not desirable on a road bike) and a stop to tighten a
loose spoke, we made it to the take-off point @Keilshammer described. What an absolutely stellar path. Freshly paved and painted it was smooth sailing. We missed the turnoff and ended up taking a
roundabout route to Don Mills. Once we
got back on track we were looking for these stairs…
BBBBRRREEEEEAAAAAAAKKKKKKSSSSSSSS!!!!!!
Found them.
Everything just seems to be harder to do in road shoes (did I mention I almost
bailed on the stairs this morning coming downstairs with the bike). Cool path through the golf course up a short
hill and back on the road. That's when it happened, @Keilshammer neglected to
mention the hill and my riding partner had serious trouble. We both made it, me thanks to my superior
physical conditioning and him thanks to me yelling and the cute blonde lady
jogging. We found our way to York Mills
and Victoria Park where we ended up with a piper down.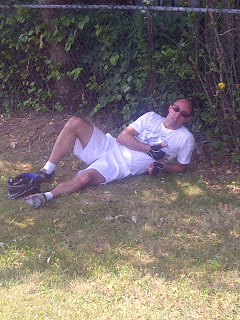 We turned around and headed back (mostly due to how busy the
road was on a weekend). The ride home
was a lot quicker now that we had an idea of where we were going. We still managed to find another shortcut and
finished up with a roundtrip of 28.95KM in 1h 49m. We weren't pushing hard by any stretch, because
of the mountain bike I was riding with, but I still managed to burn 1763
calories. Max heart rate was 180BPM (on
that monster hill) and I averaged 136BPM over the ride.
Beez
UPDATES: The legs feel pretty horrible after the ride, so
nothing seems to have changed there.
Also congrats to the Redhead from Brantford and her Denis on the
addition to their family Cash/Buster/Beau/Named to be Determined (it's a Weiner
folks).