Well I have just made it home (barely) from a mad cap action
filled weekend with Denis and Lisa in Brantford. Thanks to both of you for hosting and finding
us a very cool little adventure to participate in. On a scorcher of a day and after an impromptu
BFL game (oh, and Kings and Devils), a group of intrepid riders took on the
Rail Trail with the goal of going from Mount Pleasant to Port Dover.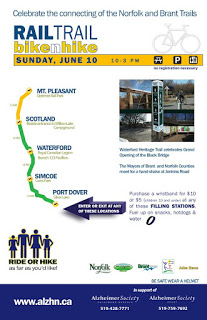 First challenge for Lisa, Jim, Denis and Beez, was getting
to Mount Pleasant. All in all, a nice
little 6KM ride got us to the starting line.
We got there just after 10a and we could tell already that it was going
to be a crazy hot day today. We met up
with Ken and Sheila and the six of us headed off, down the wrong trail. Nice start.
We were going the right direction, but the path was a mulch base which
made it feel like we were riding in pea soup.
Once we got onto the right track we made our way to the
freshly paved section of the Rail Trail and I have to say it was heavenly. Who
knew you could get to Scotland by bicycle, but as the picture shows it is easy. After a quick break for the photo and to talk
to the honorary mayor we headed back out on the trail. Sadly, the paved section
ended shortly after that and we were back to gravel (which wasn't awful).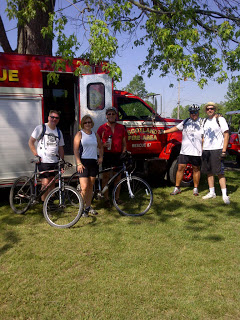 The group of Riders was starting to spread out on the trail
and based on the heat and the energy I was expending, I knew that Plan A was
not going to happen. I didn't have the
legs to go 90KM, but I felt I could do a solid 50KM. Jim was also struggling a bit and we decided
that we would head back at the next entry point while the rest carried on. We crossed a conservation area using a newly
finished bridge and sat down for some Nutragrain bars and water at the
Waterdown rest stop. Here we said our
goodbyes and we headed back to the starting point.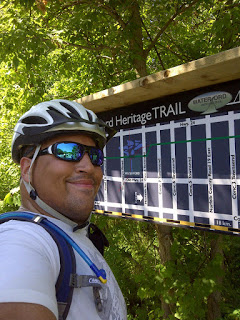 Jim and I made it back to Scotland where I scarfed down a
hot dog and topped up my water (I had already gone through two litres) and then
we split up and headed home. When I limped
back to D&L's, I had been riding for 2h 43m and had covered 50KM (49.6KM according
to the GPS and 51.2 according to the bike) burning 2,816 calories. My average heart rate was 154BPM and I maxed
out at 181BPM. When I climbed off the bike though, I was spent. Part of it I believe was due to me not eating
enough prior to setting off and forgetting to pack a gel or two to sustain me
(lesson learned).
Now you may have looked at the title of this post and been
thinking, Bouncing on the Ceiling? Well the last
two rides (Ride for Heart and Bike n Hike) were done on two different bikes and
in both cases I seemed to hit the 'limit' of my power and endurance. Now that isn't horrible, but it does make you
pause. You can see where you want to get
too, but you just can't get there (yet). It's a little painful, but provides
motivation so that the next time you come up against it (the Ceiling),
you can go at it with a pick axe and break right through it.
I will be spending the rest of my day recovering on the
couch. If you haven't been outside yet, get out there and if you have, put your
feet up.
Beez