Welcome back to our regularly scheduled programming Ladies
and Gentlemen. I hope everyone had a great holiday long weekend, filled with
lots of food, family and good times. I
can certainly say that I did and apart from one incident with four Dairy Milk bunnies
and two Lindor chocolates, I was very well behaved. Here's the recap.
Saturday was originally going to be another workout day, but
after five days in a row, I decided that after a little walking on Queen St.,
there just wasn't going to be time. One
very important lesson was learned though, don't have size 13 feet and try and
buy shoes because no one carries the size in the shoes you actually want to try
on. I seemed to be having some appetite issues as well because for most of the
day I just wasn't hungry (which for me is a really big deal).
Sunday involved family events, some nice conversations and a
new dinner adventure courtesy of Sue and Naveen. For dinner we had Raclette
(see image below) using beef, shrimp, cheese, potatoes and all kinds of
wonderful-ness. Aside from some questionable quantities of the feta dip I was reasonably
good (although Mom, when someone is trying to watch their intake, cookies or caramel
corn, not both).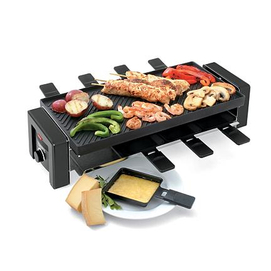 Now Monday is a scheduled 'swing' day, which basically means
I can choose to either workout early or late.
After four days of variable sleep and a lot of lifestyle adjustments,
the executive decision was to work out on the bike after work and hit the
consecutive gym days just like last week.
Hopped on Spritz, turned out the lights and popped in
Mission Impossible. It was shockingly a decent movie with some pretty good
moments and it allowed me to disconnect and start pounding the pedals. I didn't set a time or distance goal, but
just started riding. 53 minutes and 33 seconds later my legs were pretty gassed
and it was time to call it a night. My
tension settings weren't high, but I had a great sweat on with an average BPM
of 166 and a max of 177 (and yes, those numbers are higher than normal). I covered 28.52 KM and still felt pretty good
after a little bit of stretching.
Beez
PSA – Here's a little tip from your friendly neighborhood
Beezy (call this a freebie). For those
important people in your life, for Pete sakes COMMUNICATE with them (and no,
Pete has nothing to do with the advice).
Not sure of the relevance, but the last little while I have noticed a
whole group of people who can't seem to talk and it makes life more difficult
for those around them. End of Lecture.