Did I say riding a bike?
I clearly meant falling off a bike and landing on your head. Today was
the first day of Thrill on the Hill and it was pretty nice out. Once I managed to pry myself out of bed and
finish packing I was on the road just before 10am. Big thanks to Rick and Michelle who got us
the sweet location at Club Intrawest.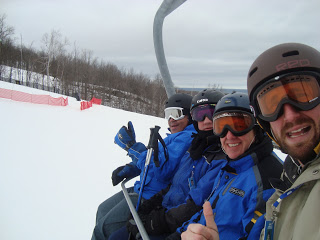 First runs of the year! It was mostly a matter of just
trying to find my feet and remember everything I've probably forgotten of the
last year. Now it was a nice day out,
but by the time we got on the hill it was pretty hard and busy. That's where the falling off the bike come in
because I caught an edge and the crash was spectacular!
OPA!!!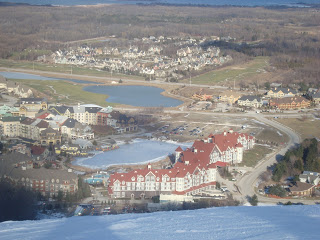 That's what I heard from Denis and Rick who had front row
seats from the chair lift. I think the
Russian judge gave me an 8.7 but my body gave it a score of 0.1. My right shoulder to the brunt of the impact,
but I had an overall body hurt going on. There were only a couple of runs after
that, as my ankles started to protest and my right binding came loose AGAIN!
Stupid thing. I mean I have used about a
gallon of Loctite on it and it still works its way free.
Beez