Did you notice how hill was all capitalized? You know, like it was important or something. Well it is and it was, because I went for my first ride with Dr. Spin and he introduced me to the section of Earth known as Lawrence Ave E as it passes under Bayview. I was not happy to meet it at all (but according to Dr. Spin, any 'serious' athlete who is anyone in Toronto, trains on this hill. He also suggested that I ride it 10 times per session).
Let me start at the beginning though. I headed over to Hammer's with the Red Rocket and the Argon because I was 'dog' sitting while they were out of town. I got suited up and headed over to Dr. Spin's which is now a quick jaunt down Duplex (2km). We watched the leaders cross the finish line for Stage 8 of the Tour de France and then headed out.
Down towards Sunnybrook and the York campus and then a quick jog down an access road (where Dr. said to take it easy because he had wiped out with a cyclecross bike and broken his leg) and then to the bottom of the HILL. It starts as a gentle climb for about 200 meters and then heads straight up. Now what you can't see from the picture below is the top which is a long, long way off. Dr. Spin said this is the ideal training ground to get ready for France 2012 because common rides there include 26KM climbs (I'm sorry, did you say 26 KILOMETER CLIMBS…WTF). I put the hammer down, stayed in the saddle and made getting to the top my one and only thought (Thanks to Denis for the 'keep your legs pumping and watch your front tire' advice from last weekend).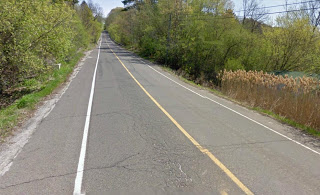 First try, no stopping, straight to the top of the HILL (I did try and go out of the saddle, but found I was more controlled and powerful while I was seated).
We then did a little touring in the Bridle Path and I found some houses and streets that I have never seen before (and a bunch of them were really nice) and ended up at Leslie and Lawrence. Down the Hill into Sunnybrooke Park (who knew there were horses and a riding school in 'downtown' Toronto), up 2 more big climbs (but way more gradual) and then into the hospital grounds. We headed back towards Yonge, had to go up one more massive hill that I didn't remember from the ride there. Once back we had a great French Toast breakfast (with lots of fruit), prepared by Shannon and then hung out in the backyard.
2KM back to Casa de Hammer and the day's riding was done. Now as I write this on Sunday morning, I recommend watching replays of the Tour de France Stage 9 which was filled with accidents, the dumbest French driver (how do you manage to drive into someone riding a bike in the Tour, JackA$$) and two gutsy performances by Juan-Antonio Flecha and Johnny Hoogerland who continued to ride after the accident (Google it and watch Hoogerland fly off the road into a barbed wire fence).
Training has commenced…
Beez