After last night's shameful performance, I am super motivated to make sure that the Dawgs at the very least can get a win this week. Like always we are struggling to find Ladies to play and we have a full deck of Dudes which means playing time is all over the map. We're playing the team ahead of us in the standings so this is a must win.
Again the team played a very erratic game and I had some trouble with a grounder to third which ended up costing us a run. I wasn't happy with that, but the rest of the defense, 3B and outfield was really solid. I had some good hard runs and was fast on the base paths, but I was really not in good shape. My right ankle has been deteriorating steadily over the last two weeks and it is really, really getting bad.
Overall the night was pretty good, I was 2-for-3 with a double and a triple with 2 runs scored and an RBI. It's that second run scored that caused the issue and the associated title of this post. Leading off the last inning of a tie game with us having last sticks. Lead of with a double down the right field line. Next batter is Mich who drops one beautifully between the rover and the left fielder, but I know I need to make 3B. I head off, but the left fielder comes up cleanly with the ball and makes a good throw to 3B. I know I am going to have to get dirty if I have any hope of being safe.
Here's the problem. I don't wear baseball pants in this league because I don't want to slide.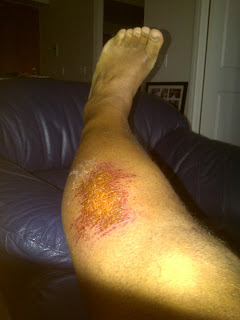 SAFE!
Bez comes through with a single to the left side and I score. Game over. Dawgs win. The price was pretty high though as I have had trouble walking since then because of the wound and because of the ankle. It has not been a good thing.
Beez
For sure this is my swan song.