Well Ladies and Gents, another year has come and gone and the Ride for Heart is part of history. As Sunday dawned (and yes, I witnessed it having to roll out of bed at 4:55am) we loaded up the Red Rocket (with a Rankin's mountain bike and my Argon) and Steve's truck (don't think it has a name yet, but he should probably get on it before it's stolen again) and headed down to the Exhibition. Little did we know you can't turn into the Princess Gates from Strachen but we did it anyways.
Got to the table and started to get Steve and Adam ready for the 75KM and when it comes down to it, those two, forgot passes, had to stop and pee and this and that. Once we got them out on the road we waited for the rest of our team, but they missed the 'meet at the table at 6:30am' note in the email. The Ladies were all on time I asked them if they wanted to ride. Then we headed off. We got into the Corporate Challenge/VIP chute and headed out, passing the 200 people waiting for the next start time (20 minutes after us).
We hit the highway and it was incredible. Open road with not a soul in sight. Sun rising in the background over the open road… Breath-taking…
We road at a leisurely pace for first 8KM or so, warming up the body and shooting the breeze (we even waved at Spanky as we passed). Once we got to the DVP, Kris and I said goodbye to Jenn and Rankin, put the hammer down. We started putting rubber to road and we had a great pace. Kris will tell you though, I am a monster going down-hill… She wheeled me in on the up hills.
When it was all said and done, 46.04KM down (I know, they said it was 50K, but it was a bit short) and 2991 calories burned according to the watch. Heart rate average was 154BPM and a max of 178BPM. My guess would be that happened climbing up to York Mills or back up to Eglinton. It was tough. It was tough to do those hiils, but I was dumb (forgot i had more gears) so I figure I will be able to hack it when I do the 75KM route next year.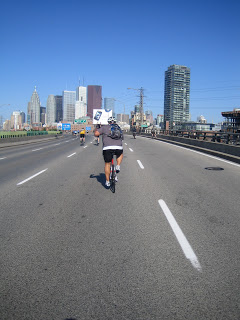 I managed to raise $2,440 and with any luck it will be $2,500 by the time donations close on Saturday.
Beez
Team Keilhauer (minus Rod and Dipesh)