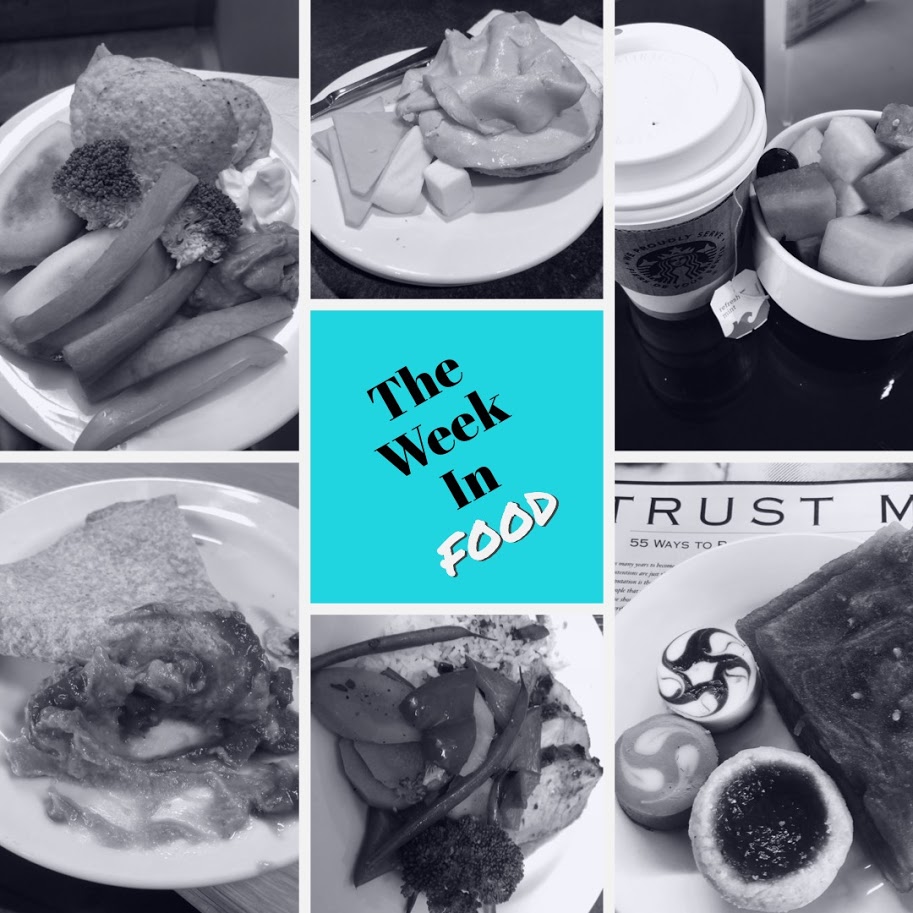 Hey guess what? This was not a week that was centered on PIZZA! Shocked? Gasps and murmurs run throughout the crowd. It's true, but this week brought its own challenges. I spent a week on a training course and as a result someone else is cooking and you have to be extra selective. Still with a few small blips and lots of bagels (one per day) the week was a success. Pay attention because there are a few takeaways for you (especially if you don't have the option of your own lunch) and a rundown on smart alternatives.
Breakfast
With a commute that involved two buses, it was almost impossible to bring food with me to YorkU (I had my laptop, power and a large water bottle). Food was provided at this training week, but you have to be careful (and I was, mostly). For breakfast on four of the five days, it was a bagel (toasted) with light cream cheese and 4 slices of shaved turkey breast. I usually added 2 slices of cheddar and a pile of fruit to round out the plate. Now I also had a small bottle of orange juice (high in sugar) to balance out the copious amounts of coffee and the occasional tea. On that other morning, @savannahjessie made steel cut overnight oats with blueberries.
Lunch
There's one thing I will say about Schulich and their food (provided by Aramark), it was surprisingly good. Lots of options, salads and soups and a plethora of desserts (that part was a little less than awesome). For me it was a solid protein (pork loin, beef, chicken), a ton of veggies and some very tasty soups. Now I was trying to steer clear of any dressings that were 'creamy' and any of the pasta type salads, but there were still lots of leafy options.  Afterwards for me, dessert consisted of another big bowl of fruit (except for that one time).
Dinner
@savannahjessie has been taking care of dinner duties with the help of Grandma Mabel who was visiting. Dinners were delicious and simple with some supplementing from Costco.  @Trulocal beef done Mexican style on a bed of roasted peppers with a side of rotisserie chicken salad. Add some guacamole for the healthy fats and beetroot/lentil crackers and I was a happy camper, especially after all the brain power that was being used. @canuckcoach and company also got in on the cooking act with a great BBQ including shrimp, scallops, steak, potatoes and corn on the cobb.
Snacks
Here's where it got tricky. The easy snack was the fruit, but there were lots of things available that could have derailed me (more on that in fails). Take an apple… and then cover it in caramel. How about deep fried stuff. Sauces on sauces on sauces. Mostly though I stuck with the fruit and sampled items that were riding the line between healthy and not. Falafel and hummus, mini quiches, veggies and chicken empanadas were all options I took advantage of.  There were also a sampling of Nutrigrain bars.
Supplements
It was a terrible week for supplements.  I was down on protein and I did not have any of my core supplements (B, D, Calcium, Osteomove) available until late in the week… Mostly because I forgot I had a small stash of them at home.
Fails
As positive as this week turned out, there were still a few trips. First Vector Energy Bars are not good. Too sweet , too much sugar and generally more a candy bar then a snack option. I also sampled two mini cheesecakes (smaller than a toonie each) and a quarter of a Boston cream donut. Sadly they didn't live up to the hype. There was also a steak and guacamole grilled cheese, a vegetable lasagna and a beer that ended up being poor decisions.
Takeaways
Even if you are unable to make your lunch (and therefore control the contents and calories), there are options available if you just be smart.  Do the simple things (like I tell MommaC all the time). Have the fruit instead of the ice cream.  If the broccoli salad is covered in some type of cream sauce, maybe opt to have the leafy green salad instead. At the end of the day though, even if you can't make the optimal choice (or there isn't one available), just do something to negate it later on.  Go for a walk or hit the gym.
Just do the little things,
Beez