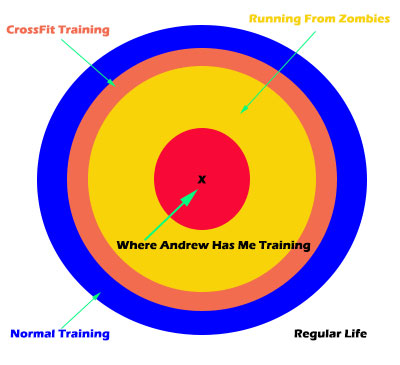 How about this snazzy art?
Welcome to the end of the long weekend!
With a gentle nudge and a push, ok maybe not so gentle, but definitely required, @savannahjessie got me out of bed on another overcast (read that as perfect) day.  I'm a little bit behind on the week 1 programming so today is a makeup day. Today's schedule involved 5 repeats of 800m at a high tempo (about 5m40s per Km) with a 2m30s rest in between (walking and recovery). With a 2KM run to and from the track, I had a nice little Monday planned.
Now up until this point, I have been working on long distance runs at normal 'Marathon' pace so adding these high tempos is outside my comfort zone. I've done some high speed 400m runs up until this point, but going 800m at high pace is something I don't think I've ever done. It's a long way and managing the tempo is really the only part I had trouble with.  By the time I got to the fourth and fifth intervals, it was a real struggle to get up to my target pace. All told today, I covered 10.21KM in the 1h13m15s that I was pounding the pavement. Overall, even with the walking, my pace was almost the same as if I had been running straight through. Interesting…
Now because being one dimensional is boring, I also added bowling to my list of activities on the long weekend. A big thanks to Kath, CM, Spanks and Marn for coming out! I seriously have to practice more because I was horrific. Really horrific. Still it was more fun than a barrel of monkeys and we have to do it again. Let that be a lesson people, don't just run, cycle and lift, do everything!
Beez