January (09 – 16) – Well now that the holidays are over and we are back from the vacation, it's time to get serious. How serious? Super serious. With the wedding day now 9 months (and a bit) away, I really want to look my best. @Savannahjessie is going to draw all the eyes, but even the lowliest Groom wants to get a quick peek. Shameless? Well maybe just a bit, but there is also the lingering knowledge that I have slipped from where I was in 2014 and I want t get back there.
How?
Well I have a multipoint plan on the go. The first part is getting back to a regular schedule @CrossFitCanuck. I can directly track my spiral downwards to the implosion of my standard schedule. I've said it before, but if you make it a habit, then you don't have to think about it. This is where you are supposed to be.  This is what you are supposed to be doing.  The work doesn't get any easier, but it helps you get focused and get to it.
Diet will be the next big component. @canuckcoach has been working out the final details for the two of us using macros. Now I am a complete noob when it comes to macros, but the basics is Carbohydrates, Fat and Proteins in the proper proportions for your body type. There are lots of diets out there that say NO CARBS, or NO FATS, but as I've learned over the course of a long battle against my weight, everything in moderation and everything has it's place.
Finally, there's my Fitbit. Sorry, a Fitbit? I used to own a Nike Fuelband and it was a great motivation tool. Was it accurate for measuring? No, in fact does anyone know what Fuel actually is or how it's calculated? Still, it did its' job and when it finally gave up the ghost, I needed something new.  After all the research, I settled on a Fitbit Charge HR. I got it in September, but it's only in the last little while that it's worth has become very apparent. As more and more people I know get the Fitbit, we've started having challenges. Work Week Challenges, Weekend Warrior Challenges and everything in between. How many steps are you getting and can you beat everyone playing. Suddenly you can't stay glued to your desk. Suddenly going for an evening walk is something that has to happen.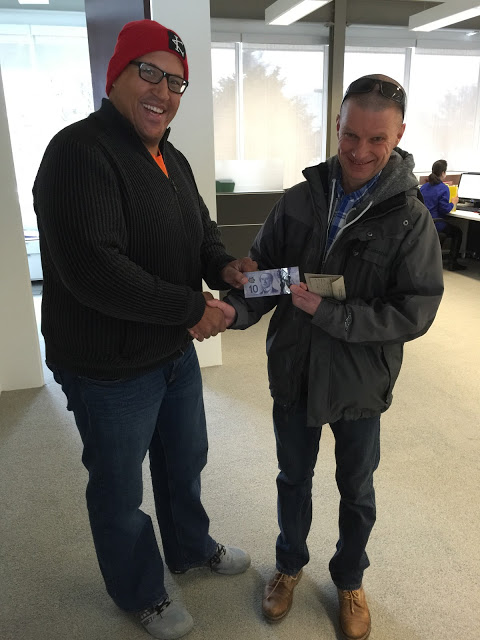 My plan includes betting on Michigan (GO BLUE)
There will be lots of components over the next while that will all be required to reach my goal, but these will be the main ones. Set your goals and then figure out what you need to do to get there.
Beez