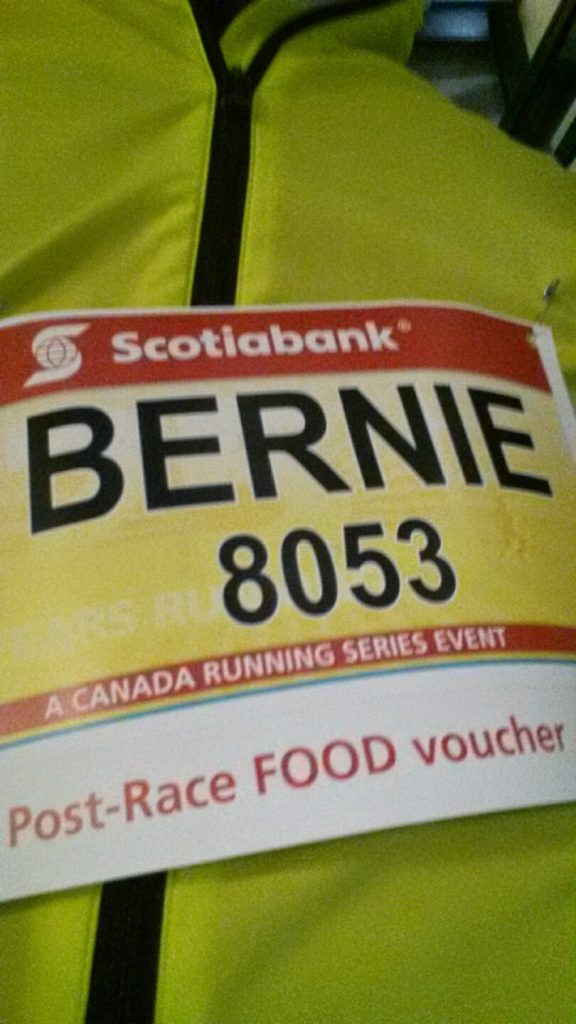 Well the day is here. The 2014 Scotiabank
Toronto Waterfront Half Marathon. I was early to bed last night, forgoing the
beer and having Nyquil instead (not a fair trade). I was groggy when I peeled
myself out of bed at 545am, heading for the items that would be required to get
moving this morning. Shower, Smoothie, Orange Socks and a solid base layer
because it would be really cold waiting in the corral this year. Mr. Bruce met
me at the condo and we headed down to meet @JessyR1978 downtown, it was FRIGID
outside. We got sorted and made the walk over to the Green Corral to await our
chance to start the Half.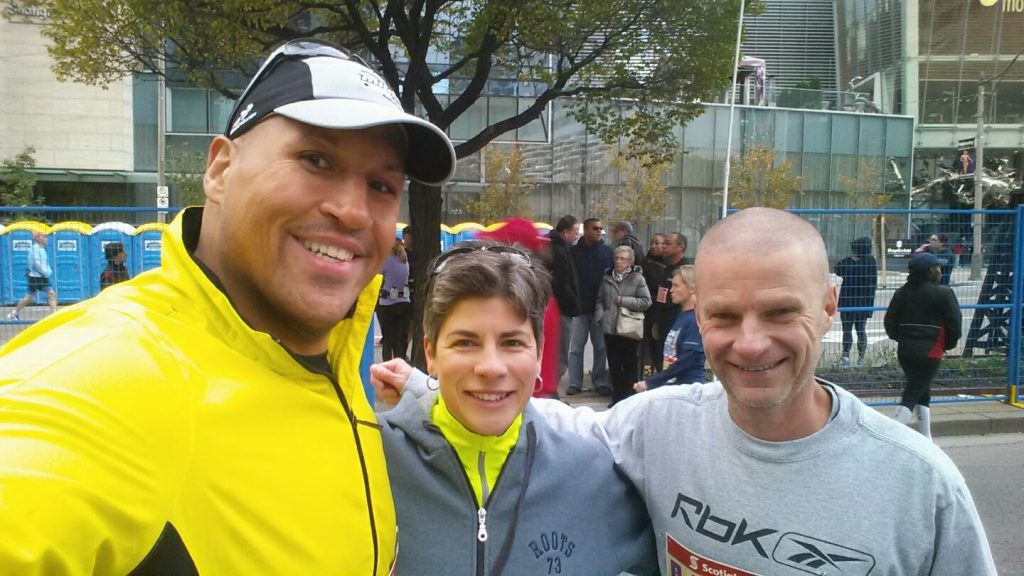 The RUNNERS
Have I mentioned it was cold? Well, when
you are standing in shorts it certainly is and going from the runner's
guidebook, you always dress for the end of a race not the start. At this point
I should have peed again like my two companions, because I pretty much had to
go for the next 3 hours. Don't get me wrong, I completed the checklist and even
went again when we met @JessyR1978, but the cold made that phantom feeling,
unpleasant.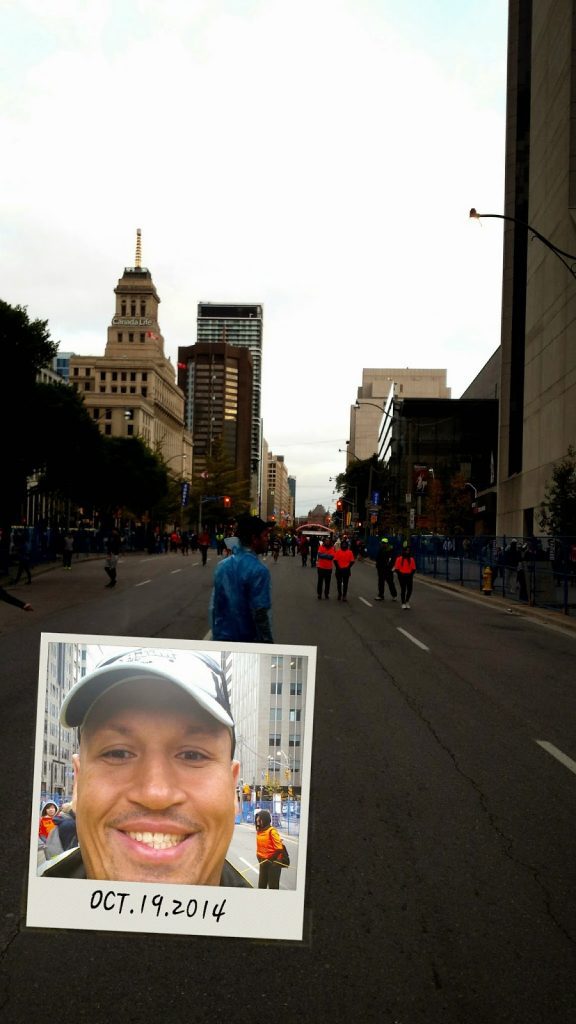 In the Corral
We started moving and crossed the timing
mats just after 9am. As always, the first few KMs were tough, a combination of
trying to get the legs warm and dodging other runners. Mr. Bruce left us at this
point (he is SUPER speedy and was shooting for a sub 2 hour Half) and
@JessyR1978 and I were left trying to figure out our pace. Initially we were moving a bit too quickly,
but we quickly settled down into a sub 7 minute/KM pace (never thought I would
be able to write that down… ever).
We ran and ran. Sound boring? Not really,
you are focused on breathing, not tripping and staying at your pace. Oh and you
have to be sharp, because there are some colossally stupid people out there who
feel the need to cross the road at odd times (se the Etiquette Section below). The
race gives you the opportunity to run down the middle of the road in some of
Toronto's coolest spaces. It was a little sad to see Honest Ed's though (it's
on this years' medal) as a giant portion of it is now sitting empty.
Etiquette Tip
Don't try and cross 4 lanes of
Runners.
Don't try to cross 4 lanes of
Runners with a bike/dog.
Don't just stop to tie your
shoelace in the middle of 4 lanes of Runners.
Just use common sense.
After evaluating the positives and
negatives of my race last year, there were some changes in my approach this
time around. I was concerned about the wall I hit at the 15KM mark and the
'heart attack' I thought I was having at the 17KM mark. I changed when I gelled
up, going by time instead of distance. @JessyR1978 let me choose the Gel times
and control the pace. We were moving pretty well all the way to the turn-around
point. There was talk about taking a break at 15KM, but I was feeling like I
could keep going. @JessyR1978 told me to go and I kept stepping.
I ran through both the 15KM and the 17KM
marks and still felt reasonably good.
My time per KM was slipping towards 7 minutes though and I was starting
to realize that it was going to be REALLY close to hit that 2h25m goal. At the
18.5KM mark it got tough as there was a giant hill that I seem to have erased
from my memory. It was tough to keep going, but I didn't stop. Before I knew
it, I had made the turn and was climbing Bay St.
I had less than 5 minutes to get there.
There were walkers who just stopped, lots of construction to interfere and I
was really starting to get to the end of my energy reserves. 500m to go.
Struggling. 400m to go. Really struggling. 1 lap around the box. Suck it up and
find a way to get the work done. 100m to go, make the push. I dodged and weaved
and pushed everything I had left into my legs. Across the finish line.
2h28m10s official time. DAMN! I didn't get
to my goal time of 2h25m. I did however fully run a Half Marathon AND I bettered
my time from last year by 9 minutes. To find those 9 minutes that I left on the
course last year and collect them, made me feel pretty good. So did all of the
folks who were out along the route cheering all the runners on. Special thanks
from me to Tavia, Sue Ann, Jordan, @c_snapper and @leighnaturkach who were out
on the route (there may have been more). Also a HUGE thank you to
@SavannahJessie who organized and entertained Momma and Poppa C, who came to
see me race.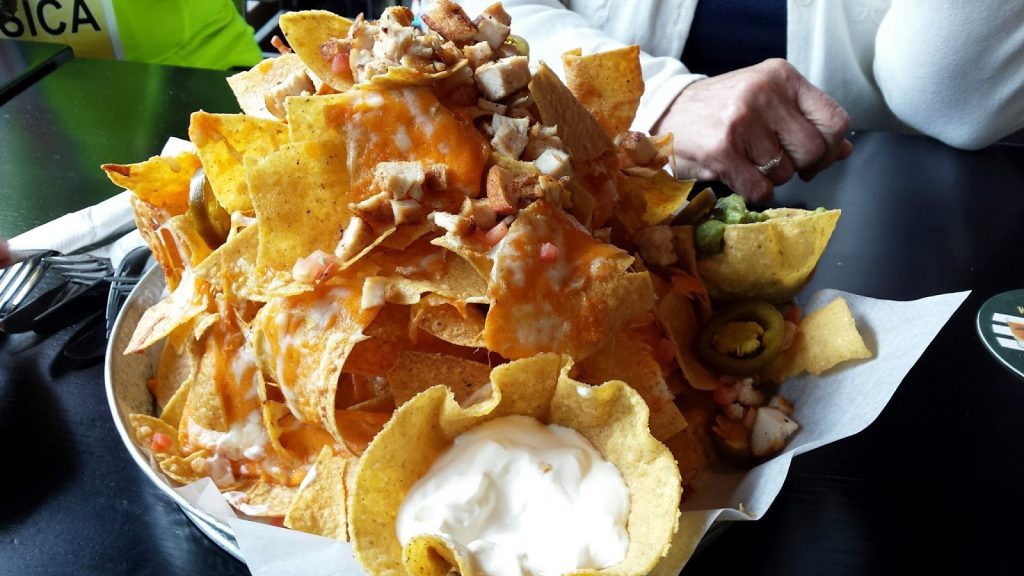 The Victory Nachos
Following tradition, we headed to the Shark
Club for VICTORY NACHOS and beer. Healthy choices, no, but delicious. Thank you
again to everyone who helped me get across the finish line this year with a
good time.
Beez