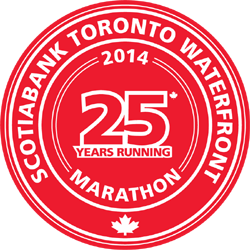 It's 12 hours (ish) before start time of
the Scotiabank Toronto Waterfront Half Marathon. How am I feeling? To be
honest, I am FREAKING THE F&CK OUT. There has been so much going on the
last few days; it's been tough for me to get caught up. Let's start with my
last Run before the Half and then go from there. This was Thursday evening
instead of my normal class @CrossFitCanuck. Hopefully that was enough to shake
loose anything that was crunchy in my legs and get me ready.
The goal was to take it nice and easy, but
somehow the pace kept climbing and climbing to the point that I almost ran my
fastest 5KM. I ended up going 5.10KM in 36m26s with an average pace of
7m09s/KM. The Garmin says that I burned off 672 calories during my 2 Bellamy
laps (plus once around the box). My heart rate average was 141BPM with a max of
154BPM. My run cadence was 154SPM with a max of 192SPM (which is up there near
my highest ever).
Friday I had my first few classes of being
Tavia's Giant Chocolate Shadow. As a bonus I even got some time to hang out
with Mr. Jordan. Saturday morning it was back to the box for some more Shadow
Ops during a very busy Saturday session (Congratulations to @SavannahJessie who
got the news today that she had graduated from fundamentals and was moving to
regular classes). Then it was down to the Direct Energy Centre to pick up the
race kits for Mr. Bruce and @JessyR1978. What a circus. TFC, a Marlies game,
the Fall Bike Show and the Delicious Food Show, it was a miracle that didn't
come home with everything. That's when it hit. I started feeling like I am
coming down with something, most likely a cold. GRRREEEAAAATTTT. Just what I need.
As a result, I will forgo the prescribed
beer and hit up the Nyquil instead. Tomorrow, if you follow @bigbrnz, you will
get live race updates.
Wish me luck for that 2h25m.
Beez