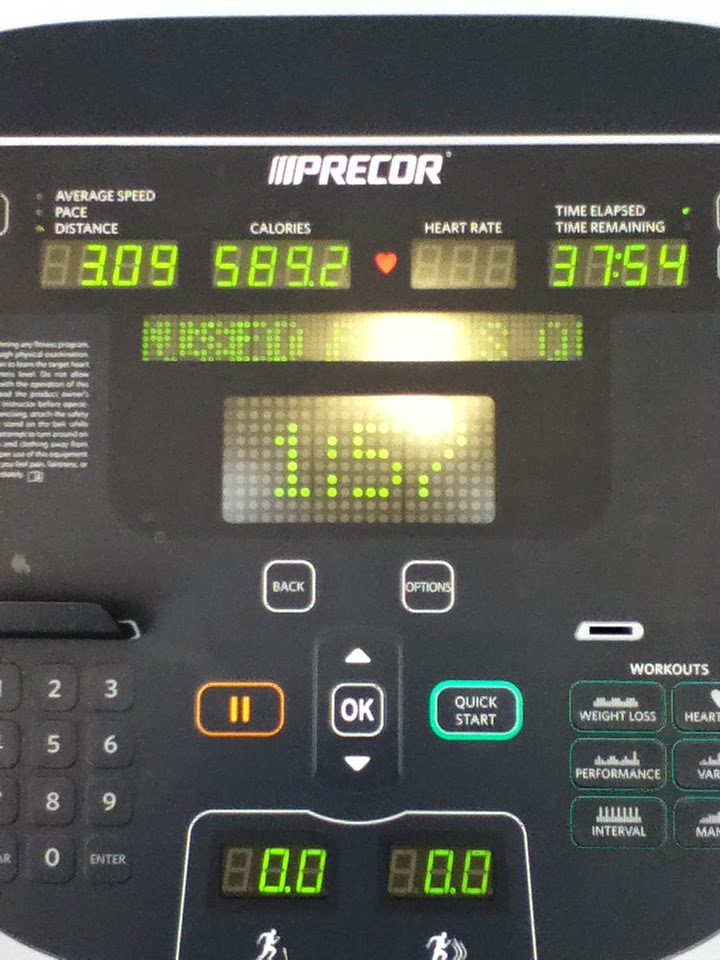 My Command Centre
Apparently I underestimated the toll that 14.5 took on my
body. Sunday I felt like I got hit by a bus and I'm sure the 5 hours of sleep I
got didn't help. Monday wasn't any better and as a result I spent a great deal
of the day in meetings with my bed and even cancelled my normal Monday class
@CrossFitCanuck (I KNOW! Gasps all around and fire and brimstone warming up for
the end of humanity). As the day progressed though I got more and more
restless. The Open is 365 days away and it is time to start getting ready
again. The Open showed me strengths and
weaknesses and where I have to devote my energies. It's time to start moving.
I got moving just after 5pm with the goal of just getting a
light walk/jog in. Today's session ended up being 37m49s and covered 5km. Today
was not pleasant or easy. Aside from one good stretch of running at 6.5MPH I struggled
to keep moving. I was an unhappy triangle of grief. My left hip, right
hamstring and left Achilles were all voicing their displeasure. All I can think of is the Burpees did this to
me. I will get them for this (I know, sounds crazy talking to a Burpee).
My overall pace today was decent, clocking in at 7m34s/KM
and with the SportingLife 10K 41 days away, I want to drive that time under 7
minutes. My strikes per minute were close to being on target at 136 and I maxed
them out at 170SPM. 538 calories (according to Garmin) and i was done. Literally. I'm going to give the treadmill another go tomorrow and see
if I'm still having issues with the legs.
BWOD
Quad Stretches
Calf Stretches
Hip Stretches
Now on a very important and connected note, let's talk about
diet. I haven't been very strict the last few months with what I've been putting
into my body. I'm no where near where I used to be (consumption of fast food
wise), but I haven't been strict or careful enough. Well hello April. A month
of really trying to focus on how much, what and where I eat. Lots of cooking, brown
bags (for lunch), @CrossFitCanuck and Running.
It's about to get REEEAAAAALLLLLL…
Beez