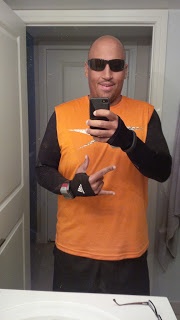 Last week I completed my longest ever run (pause for
dramatic effect), today I bested that mark. Crazy eh? Over the next few weeks
as the Scotiabank Waterfront Marathon creeps closer that 'longest' ever run
will keep increasing. I'm still not in love with running, but I can see why
people enjoy it. You can shut your mind down and just focus on running, cutting
out all the extraneous crap that rattles around on a day-to-day basis. Today I was
taking my running show on the road (photo is for one of my Half Marathon
partners @c_snapper, always a well-dressed running machine) to the great north,
otherwise known as Markham. Special "Thank You' to Bruce for hosting the run
and finding us a really good (and a bit challenging) route.
Now some background info on Mr. Bruce. What you need to know
is that Brucey is a runner. He has a runners frame and he is regularly out 3 to
4 times a week running at least 5KM and that doesn't even count the run/walk
combos with the dog. In the days leading up to our run I was nervous, really
nervous. With only 1 long run under my belt I wasn't sure if I could do it
again and would I be able to improve.
We started off in the Highway 7 and Markham road area and
headed out on what would have to be classified as an absolute perfect day. I
really hope I didn't slow Bruce down too much because he was very gracious and
let me set the pace. We made our winding way through some quiet streets and
along some busy ones (with really big wide sidewalks) all the way to Major Mackenzie
drive. Touched the light pole and then made our way back to home base. I should
mention that Bruce runs a 10KM once a year just to prove to himself that he can
still do it.
11.36KM in 1h21m (distance and total time records), burning
1,859 calories all before 11am. We even
had a sprint finish as we turned into the home straightaway. My heart rate
average was 156BPM and I maxed out at 170 BPM. Besides a 20 second wait for a
traffic light, it was all out for the entire run. Run cadence average was 78
SPM 9strikes per minute) and clearly I still have work to do to get this in the
90 to 100 range that they recommend for distance running.
Family Reunion Saturday afternoon and a day of football on
Sunday. Have a great weekend.
Beez