And by flavor country I mean wine country…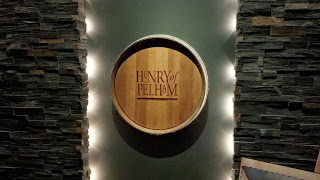 For this lovely Saturday morning adventure @CADPRO00 and I strapped
the bikes onto Dorothy (my car) and headed to Henry of Pelham (in St. Catherines)
for a bike tour with the @HSFRide. This was a VIP draw that I was included in
and included the ride, lunch and a wine tasting. The weather was perfect, not
too hot, not humid and there was a nice breeze blowing. Perfect right?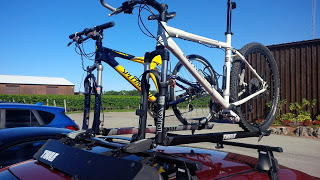 Well, almost. We unloaded at the winery and I started to
pump my front tire and BAM! Ok, not BAM, maybe more a quiet sssssssssssssssssssss.
Blown front tire. Crap. Well thank goodness I have a spare tube, but its a
couple years old and I haven't changed a tire in a decade. Well I got it done
and everything seemed to work out ok. I did get a little gun shy pumping up the
rear wheel so I ran at a lower pressure. It made for a lot more effort later
on, but I didn't want to risk another failure.
We got a briefing and then headed out. First off, no one
told me that wine country was built on a MOUNTAIN RANGE. I was riding the old
mountain bike so that it would be more of a fair ride with @CADPRO00 who also
rides one (mind you he's riding slicks). Right out of the gate we hit a whopper
of a hill and our group broke up right away. We managed to stay with Peter (who's
been organizing the actual Ride for Heart for 26 years) and we followed a
rolling road with incredible views on either side. It was some spectacular countryside (but did I
mention the hills).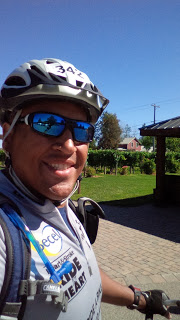 We weren't really going crazy with our speed or tempo
because we had a wide range of skill levels in the group. I will say that I'm
renaming my mountain bike to the Beast (similar to the name of President Obama's
limousine Cadillac One). It was heavy and solid, but we had a really good tempo
(way higher then I would have normally had and even approaching road bike
speeds). It didn't get serious until we got to Jordan Village. There was a STEEP hill coming in and then a
sharp left that looks like the top… Only it's not. Make the left and it gets
steeper. @CADPRO00 took some prompting to keep pedaling (GET YOUR LEGS
MOVING!!!) but we made it.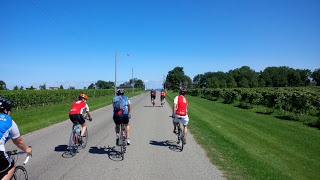 The rest of the ride the tempo increased as a group of 4 of
us broke away and made our way back.
There were 2 big hills, but we mastered them and made it back in one
piece. Total ride was 1h27m covering 31.13KM at an average speed of 21.5KM/h
(old average on the Beast was 18.5KM/h). I hit a max speed of 53.5KM/h (which I
believe is a record) and burned about 1,894 calories. My heart rate averaged
135BPM and maxed at 172BPM (which is expected when climbing 144m of elevation).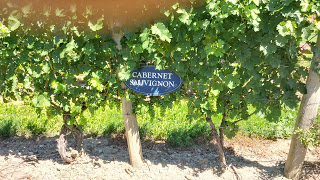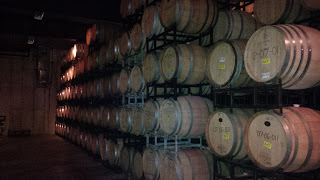 Once we got back we had an amazing lunch and a really cool
tour of Henry of Pelham. I have to say that the wine cellar reminded me a lot
of Opa, the barrels, the smells and of course the wine. The cellar was huge and
we tasted a couple of reds and some sparkling wine. It was a really great day
and the Heart and Stroke Foundation put on a great event.
Beez