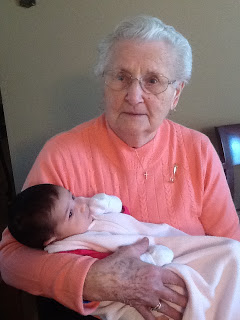 That's right, I just turned into an 80 year old (that's a
picture of my Oma). WTF? So this is the post from Thursday evening, I'm a bit
behind but am getting back on track. So, back to the story of my hips (think
Shakira but with less hotness). I'm warming up (slowly) before class (on
Wednesday), just doing the standard 400m Run, nothing special (wasn't
sprinting, running backwards or anything crazy), when I suddenly get a 'twinge'
in my right glute. Weird, but it didn't hurt a whole lot and I kept going. Got him
and hung out with a visiting Mamma C and when I woke up, my entire right hip
was SCREAMING. It hurt so bad I couldn't put my socks on. Did I skip CrossFit?
C'mon give your head a shake, of course I went.
Warm-up 'A'
400m Run
10 Sledgehammers
Warm-up 'B+'
3 Jump Shrugs
3 High Pulls
3 Muscle Snatch
3 Drop Snatch
3 OHS
3 Sots Press
5 Duck Walk (Forward)
5 Duck Walk (Backward)
3 Bounces
There was some extra stuff in Warm-up 'A', but it was Squats
and Tire Jumps and my hip was having zero of that today. In all honesty I should
have given more thought to resting up, but CrossFit is my drug and I needed the
hit. Strength today started with the
Split Jerk off the rack and then Front Squats (grrreeeaaaattt… Exactly what you
want to see with a sore hip). Worked hard trying to get fast feet and ended up
working @125lbs for the Jerk which was challenging, but felt pretty good. The
Front Squat was a different story though and I struggled a lot, but managed to
complete the activity @165lbs.
Fight Gone Bad… But Not!
3 Rounds for Reps
1 minute ME Squat Clean (@75lbs, went light here, RX was
135lb)
1 minute ME HSPU (From the Box)
1 minute ME Kettlebell Swings
1 minute ME Ring Dips (Green Band)
1 minute Rest
That right there was a burner, but oh my did it feel good. I
lightened the weight for the Squat Cleans to try and protect my hip a little
(not sure how effective it was) and the rest of the movements were ok. I finished with rounds of 45, 54 and 57 Reps
(woohoo!).
Cash-out
3 ME Rope Climbs
At first I didn't want to attempt this because of the hip
issue (and I should have stuck with that) but I gave it a go anyways. I had NO
power and it was seriously uncomfortable (@jonokim11, I owe you 1.5 Rope Climbs).
In fact I was trying to get a lock so hard and with such an imbalance, that I pulled
my hip on the other side (again, greeeeaaaaatttttt).
Had to hurry home because Dan Joe was in from Calgary for
the first time in forever. We went out
to the local Firkin and I managed to be Paleo as I scarfed down dinner. Wait,
vodka's Paleo right? He might have
talked me into a visit for stampede, if not this year for sure next. Young as I
am though, I was up way past my bedtime… Friday is going to be rough.
Beez