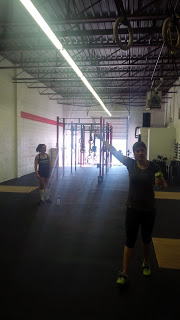 Well it's a beautiful day @CrossFitCanuck. The sun is shining, the doors are open and we
are getting ready for some serious business. I had some reservations about the
WOD tonight because of this stupid hip with Thrusters, Running and Back Squats.
Only way to find out if it will hold up is to give it a go. With the mediocre
diet and the packed schedule this week I need to make sure that I get my WODs
in when I can.
Warm-up 'A'
Shuttle Run (Slow)
10 Wallball (@10lbs)
Shuttle Run (Medium)
10 Wallball
Shuttle Run (Fast)
10 Wallball
400m Run (I felt like a run)
Warm-up 'B+'
3 Jump Shrugs
3 High Pulls
3 Muscle Snatch
3 Drop Snatch
3 OHS
3 Sots Press
5 Duck Walk (Forward)
5 Duck Walk (Backward)
3 Bounces
I'm still having lots of issues with the flexibility at the
bottom of the OHS and any of the deep knee movements, but I will keep working
away. First up tonight, Clean & Push Jerk working at 3×1 @125lbs, 3×1
@135lbs and then 2×1 @155lbs. Then it
was off to the rack for Back Squats with a 5 second hold at the bottom followed
by a bounce. I was having some trouble
getting a good position for the bar and my shoulders were screaming. I got them done @225lbs and then got setup
for the WOD.
WOD (For Time)
30 Knees to Elbows
20 Thrusters (@115lbs
800m Run
20 Thrusters
30 Knees to Elbows
WOWZA! Those were some serious Thrusters right there. Big
ups to @SarahBassels for being a great pace setter (although the shortcut
through the dumpsters was too tight for this big body). It was a lot of work
but the #530Crew kicked as always! I had some issues with the Thrusters and
getting low, but once my head got it together pushing the weight was pretty
easy. I ended up finishing in 14m26s.
Cash-out
3 minutes ME Wall Walks
There were some crazy Handstands after the Wall Walks, but
after the disaster that was my first attempt, an ambulance and emergency room
visit were not high on my list of things to do.
Instead I focused on my homework.
B-WOD
3×20 GHD Back Extensions
5 Deep Squats (Rig)
Hip Stretches
40 Abmat Sit-ups
Back Rollout
I was kind of stoked about the running today. I had a good
pace and I think I could maintain it for a fair distance. With the Ride for
Heart less than 55 days away and the Half Marathon in October, barring any
stupid body issues, I'm progressing nicely.
There is lots of work still left, but we have a nice base.
Beez
Big props to @SarahBassels for knocking off a 50 Burpee penalty after this craziness!