No this is not a bad sequel to a horror movie franchise, it's
the finish line that I will be looking towards 30 (ish) days from now. With the
end of International @Keilshammer Birthday Week celebrations, it's time to
batten down the hatches and get serious. For the next month I will be following
the Practical Paleo 30-Day Weight Loss food plan and maintaining my 4 day a
week schedule @CrossFitCanuck (and adding some work on the spinner to get ready
for the ride). While there are some (@Keilshammer I'm looking at you) who feel
I'm setting myself up for failure by doing full paleo instead of 80/20, I say
'Thanks', I love being able to prove naysayers wrong (not in a mean pom-pom
waving way).
The goal was to shop on Sunday and visit my niece Willow,
but after the festivities on Saturday only one of those two things happened. It
wasn't shopping. My super, amazing, cute niece had some quality Uncle Beez time
for the first time and we had a full blown photo shoot (the first of what I'm
sure will be 10,000,000 pictures). Instead of falling right out of the gate
though I went shake for breakfast, chicken and spinach salad for lunch and
chicken with sweet potatoes for dinner (I also shopped on my lunch for a full
fridge of paleo friendly options).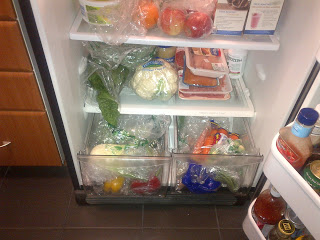 3 more days off and my knee is feeling better so back to the
full program!
Warm-up
500m Row
21 Squats
15 Good Mornings
9 Push-ups
250m Row
21 Dislocates (Pass Throughs)
15 Deadlifts
9 Leg Swings (Each Leg)
Today's WOD was going to be tough one, but before we got to
it we were working on Push Press for the first time in forever. @Keilshammer
and I were paired up again and he would set the tone for the workout. 5 sets of
5 reps working at a new PR for me of 125lbs (previous was 115lbs). @Keilshammer
then went on and raised his 1 rep max to 155lbs (congrats!).
WOD (25 minute CAP)
10 Deadlifts (@225lbs)
20 Chest to Bar (With Blue Band)
40 Wallball (@20lbs)
8 Deadlifts (@225lbs)
16 Chest to Bar (With Blue Band)
32 Wallball (@20lbs)
6 Deadlifts (@225lbs)
12 Chest to Bar (With Blue Band)
24 Wallball (@20lbs)
4 Deadlifts (@225lbs)
8 Chest to Bar (With Blue Band)
16 Wallball (@20lbs)
2 Deadlifts (@225lbs)
4 Chest to Bar (With Blue Band)
8 Wallball (@20lbs)
I was determined to finish this WOD no matter what and I was
happily surprised to see that I was still under 20 minutes with just the last 8
Wallball left. I ended up finishing in 19m46s.
I was pretty stoked. The whole
#530Crew smashed this WOD and we all finished strong, you guys were all
awesome!
Cash-out
3×20 Abmat Sit-ups
3×20 Ring Pushups/Dips
I didn't end up on the GHD machine tonight because I really
wanted to focus on the Rope. It's been a while, but my thumb was feeling better
and even though I was tired from the Push Press I felt really good. I'm so glad
I did to because I managed to climb (NOT to the top yet), but I made it up one
handhold and got my knees up and feet locked. I still have to do way more practice,
but for the first time the Rope is feeling doable.
After class Tavia found time to do a body composition
analysis for me. We compared it to the
one I did at the beginning of January and there were some interesting results.
My weight had gone up .8lbs to 323.8lbs (most of that is due to the food last
week I have no doubt), but my body fat had dropped 7%. That's right, 7%, down
from 32% to 25%. WOW!!!!! We got a goal
of getting under 300lbs after the 30 Days of paleo and I will be very happy to
crack open the gold bottle on my birthday if I'm successful.
Beez