Welcome to 2013. After ringing in the new year with @Keilshammer,
@Wardy_ and some friends, it's time to get back to being serious. The kind of serious that means limiting my
alcohol intake, eating paleo-ish and pushing this body as hard and as far as I can.
While we were celebrating, we were all pretty healthy in our choices (except
for the booze and the crazy amount of cheese) and we managed to even squeeze in
a nice wintery walk. Reality returned
with Tavia's first WOD of the year.
Clearly she was worried the 4 day layoff would have an adverse effect on
our conditioning.
Warm-up
800m Row
3 Rounds of
5 Beat Swings
10 Pushups
15 Squats
Nice and easy to get started and no buy-in because today's
WOD was going to be tough. Before we got to it though, we were going to work on
1 set of 20 reps at 65% of your max Back Squat.
I got to throw a little bit of a curveball and try and up my 1 rep max
instead. There are still issues with my flexibility,
but I was working hard at trying to get below parallel (I got close). When it
was all said and done, I added another 35lbs to my max, bringing it to 285lbs.
Dirty Dozen – Barbell Styles
30 Power Cleans (@95lbs)
30 Pull-ups
30 Box Jumps (24" box doing step-ups)
30 Push Press (@95lbs)
30 Sit-ups
30 Wall Ball (20lb Ball)
30 Front Rack Walking Lunges (@95lbs)
30 Pushups
30 Kettlebell Swings (50lb Bell)
30 Squats
30 Burpees
30 Deadlifts (@95lbs)
Cash-out
15 Bridge-ups
1 Bridge-up Hold (1 minute)
Now I'm going to do some horn blowing here so brace
yourself. The time cap for this WOD was
30 minutes and I was doing all the items at RX weight. I felt slow and sluggish at points, but I wanted
to finish this WOD very badly, but time ran out for me after 5 Burpees. Not to
be stopped by a little thing like a time cap, @CADPRO00 loaned me a timer and I
KEPT GOING. That's right, I could have
stopped (and had every right to), but I worked for another 5m50s and I finished
it. Now that won't count at a
competition, but I finished. A big THANK YOU to Anne, Sue, Darryl, Andy and Mans for the encouragement to keep going (and Tavia, I will get faster).
I finished the cash-out and worked on my normal after class
work. @CADPRO00 even got on the GHD
machine and found a whole new sweet world of awesome pain. The only negative
from today is that I couldn't do any rope work because of a full house for the
foundations class. I may have to start
doing it at the beginning of class.
Now before class Tavia asked us to put a goal on the board
for 2013. Mine was to get to 275lbs and
be a strong, fast, beast that could run the Scotiabank Half-Marathon in under
2h30m. Let's get after it!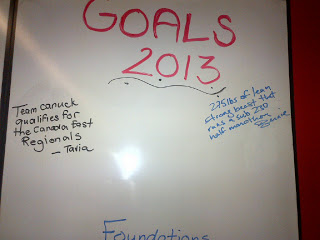 Beez