Unless of course you aren't counting tears of joy for
finishing a WOD, tears of exhaustion for finishing a WOD or tears of pain when
you pull your hamstring. It almost came
to number three in the warm-up phase of tonight's session. I've never done anything that would stress a
hamstring enough to ever have to worry about hurting it (besides, my hammies
are the size of some people's legs).
Runners, wide receivers, people who are super active, those are the ones
who have to worry. Not a tank learning
about getting healthy. WRONG. We
finished the warm-up and were working on stretching when I went down in a squat…
And almost didn't come back up. Wow.
Warm-up
10 Gym Lengths
5 Sit-ups at one end (10lb medicine ball)
5 Ball slams at the other end (10lb medicine ball)
*Carry ball overhead while running
Now hamstring aside, today was my first day of going
back-to-back and it was tough, but I like the challenge. I also need to send big thanks to
@Keilshammer because at lunch today we moved new furniture into my condo. He
also had a great move, catching a sofa with one hand when yours truly
misunderstood the 'Stop' command. So I went Hero WOD, moving and then crazy
Ladder in the span of 48hrs… I'm spent.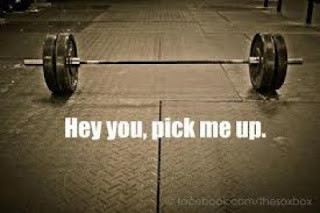 We worked on Dead Lifts and Bench Press today as strength
and conditioning and we discovered that my max for the lift probably isn't my
max. Ah well, we will have another
baseline day at some point and I will get to figure it out. The Bench Press was interesting because Tavia
paired my up with Darryl (our instructor from Wednesday). I haven't faced the bar in about 10 years and
wasn't sure I could keep up with him (he is a CrossFit machine). By the time we
figure out our max weights (3 reps) I was only 10lbs behind him. 190lbs is my
new max!!
1000m Row at ME (Buy in)
Ladder (8 minutes)
Power Clean (65lbs)
Hand Stand Pushup (I was modified using a box)
Ring Dip (I was modified using the purple band)
*Increase the reps every round (1,1,1 – 2,2,2 – 3,3,3…)
1000m Row at ME (Cash Out)
**If row times differ by more than 5 seconds, we owed Tavia
20 Burpees
My first row was 3m37s and I finished 6 rounds of the Ladder. I got back on the rower and finished at
3m44s. Seriously, 7 seconds off. 20 Burpees for me. Crap. Done like dinner
after that, but still not happy with my form on the Burpees. I just can't get my legs back up without
going wide. At least I know what I have
to work on.
Recovery for the weekend along with hanging with
@hoodieruns, @wardy_, @edmarkwards and @keilshammer. I just hope I can walk. Congrats to Indira
who came to her first class tonight and will be joining us on a regular basis.
Beez