Well today was game one for me playing BFL football this season
(they've been playing since September) and based on the weather I wasn't sure I
was going to make it. The roads between
Hamilton and Oakville were supposed to be awful. When I finally got on the road
it was clean and dry. That was not the
case the closer I got to my destination.
It was like Mother Nature decided it was going to snow and freeze for
50KM and that would be it. In Brantford
it was a nice early winter day and I was interested to see how the body would
perform with three plus weeks of CrossFit.
Right out of the gate, I felt strong and fast. If you read my last BFL related post, I couldn't
throw, was having trouble catching and was gassed for most of the day. Just about everything I threw today was a
nice tight spiral with speed and distance.
I was running really well (still not fast though) and while there were
one or two times I needed a second to breathe deep, I was golden.
For a first game I had a pretty great day at the
office. I threw two touchdowns and ran
for caught three more. One of those catches was a nice bobbling catch along the
goal line and another that involved a nice out, beating the corner and racing
into the endzone (sorry Rawd). It may
not sound like much, but I don't usually race anyone to the endzone. I also
made a hustle play to try and catch Cathy.
She had too much of a head start, but I made her run the whole way.
After a quick after BFL beer, I jetted to visit my Sister
and Naveen (I didn't have time to stop and visit the Little Redhead from
Brantford). Put together a crib for my
soon to be arriving niece hung so picture in the nursery and put the snow tires
on her mode of transport. After all
that, I was absolutely spent (and I didn't finish the whole list).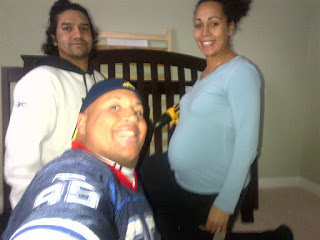 Quick note on BFL. Every time I play my ankle jams at some
point and it takes an adjustment to get it working again. I thought that with all the work I had been
doing, I was going to be ok. Of course
the second LAST play of the game it happens again. Not an ideal situation, but
it lasted longer than ever before.
Hopefully with a little more CrossFit I won't have to worry about it
anymore.
Beez