I know this blog is more a statement about a personal
journey then a comment on social events or great moments in human history, but
every once in a while there's a gem.
That rare piece of wisdom that can be applied to your own life. Something that one little nugget that, after
being read, causes the light bulb to go off in your brain. After the 'Ode to
Alfred Pennyworth' post, who would have thought that maybe, just maybe, BigBrnz
had another little sparkly rock of goodness trapped in that giant bald noodle.
Well read on and you be the judge.
CrossFit. Oh, CrossFit.
I can see you being very, very hard.
My body likes you and then hates you while I try and recover from the
WODs (Workout of the Day). You remind me
of football (back when I was young and relatively mobile) and how much I hated
the wind sprints and the running and the hurt. You remind me of the camaraderie,
being out there with a team that's there to encourage you to be better and to
work harder. There the hard work was for
the team, but in CrossFit the work is for you (well, me in this case). That doesn't
mean there still isn't a sense of teamwork with a group of people that can be
total strangers. Cheering and
encouraging you to lift just one more.
Sometimes that is both good and bad.
As I lay in bed this morning aching because muscles that
haven't been used in fifteen years are being reawaken (and complaining about
it), I thought how easy it would be just to roll over. Do CrossFit twice a week and call it a
day. It's hard work and would surely
qualify as enough activity to keep me healthy (and certainly more than I did
for a lot of years prior to 2008). It
was then that I realized that life is just a giant ' Choose Your Own Adventure'
book. You remember those stories where
you got to choose the path of the character.
If you choose 'A' go to page 34 and if you choose 'B' go to page
55. Of course there was always that
juicy plot line you could never get to (you found it by skimming ahead), but
that didn't stop you from trying.
'Nugget Of Goodness' coming…
It was then that I realized that it's the small decisions
that you make, just as much as the massive ones (house, marriage, kids…) that
shape your story. The decision to get
out of bed, even though your hips and hip flexors hurt. The decision to keep going even after you
realize that you won't be able to complete the 10K Training run that you
started. The decision to keep going as
hard as you can because when you add up all those little things, they will be
the difference. They will determine
whether you are successful or not.
Whether you beat your time from last year. Whether you finish the Half-Marathon in the
time you are aiming for. Whether you are
healthy enough to live a long full life.
So this morning was
the day I got up and didn't want to. Got
on the treadmill and started running.
Realized that my body was too sore to complete the high intensity
run. The day I gutted out 43m39s at a
9:22 min/KM pace. Today was the day I burned 504 calories (651.1 if you believe the treadmill) that I really didn't
feel like burning. Today I went looking
for that juicy plotline.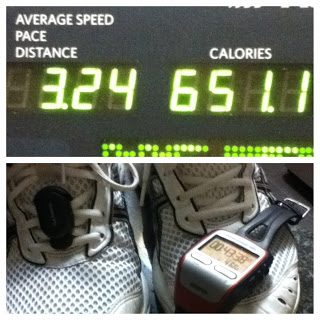 Beez