Boy 8am comes awfully early when you hit the pillow at
1am. Today's schedule included an early
morning ride with Dr. Spin and @Keilshammer into the Barrens for a 40K and then
to attempt a run afterwards (called brick training). When you get off the bike,
the last thing you want to do is to transition back to running, but in next
weeks' race, that's exactly what will be happening. So this weekend is the last chance for a big
training session because next week is all about recovery and preparation.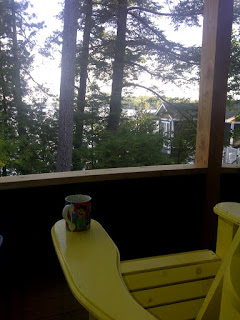 We set off at the appointed time and as soon as we hit the
first hill, I knew this was going to be a fast, hard ride. Dr. Spin and
@Keilshammer were setting a pretty tough pace and we were working our way
through the first half pretty quickly. The weather was fantastic and we
seriously did not see a car until we had turned around and were well on our way
back. Lots of people were out cycling
and we were still flying. About the 16K
mark, Dr. Spin looks too me and says "Do you have it in you to go hard for this
last 4K?"
Click. Click. Boom…
Shifted down and started to hammer the pedals, pulling away
from Dr. Spin and reeling in @Keilshammer who was leading the breakaway. Ten seconds and I was clear. Good cadence, head down, feet flat and high
cadence on the big ring. Just kept
pumping and pumping. 3K later and I hear
a distant voice calling me an animal and I risked a glance behind me and there
was no sign of my companions. I took a
bit off in the last 200m, but I finished the first 20K in 42m20s and had an
average speed of 28.8KM/H. WOOHOO!!!
Slammed down a peanut butter GU gel and then we headed
back. I wasn't going to go hard, but as
we got farther into it the speed and tempo started to pick up. It was a little tough after the turn around
to get my legs into it after the burner, but we slowly picked up the pace. We
finished up the ride in 1h28m04s at an average speed of 27.5KM/H (which is
still really good considering that the first 5K after the turnaround were
slow). Maxed out at 56.5KM/H and had a
heart rate of 156 BPM (hitting a max of 181 BPM. The best part was the 2,788 calories burned
before 11am.
But wait, there's more…
Racked the bike and threw on the sneakers, heading out after
@Keilshammer to complete the brick. His
goal was a 4K and I was doing a 2K (Wasaga, coming off the 20K ride, we have to
run 2.75K). It was really hard to keep the legs pumping and I was getting
discouraged because not only did I have a stitch, but I was having trouble stringing
long sections of running together (I walked if I wasn't running and never
stopped). As I completed the run, making sure to run all the way to the car, I discovered
that I had completed the 2K in 15m29s.
Say WHAT? A 7m37s/KM average?
That's the fastest I have EVER done.
I was thrilled and had burned another 289 calories along the way (grand
total of 3,187).
We're hoping to get out again tomorrow and I wish you all a
happy long weekend,
Beez