Well the plan for back-to-back rides went a little bit off
the rails this morning. After
yesterday's awesomeness, plus partying with @anrankin, @Keilshammer, @a_package
and Conductor Bill, there were some seriously hurting bodies at the cottage
this morning. For a change, mine was not
one of them (although I was feeling the physical toll of riding instead of hard
partying). When I got up, it was to find
not a soul moving and I figured discretion was the better part of valor in this
case and let everybody wake up at their own pace.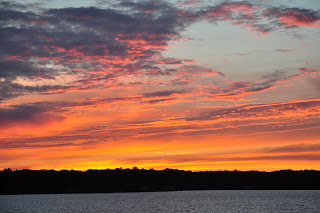 Riding looked to be out of the picture for today, but not
wanting to waste a great outing yesterday and a pot full of motivation, I
grabbed the iPod and headed for the treadmill.
Why treadmill when you can run outside you might ask? Well the answer in
because I felt like it. My show, my
rules. Today would therefore become Day 2 of the 10KM training program instead
of a ride day.
There is a list of things I didn't feel like doing today and
as soon as I started, working out leapfrogged to the top of said list. With a good playlist and Zombieland for
distraction I set about trying to complete this session without puking. For a couple of minutes I thought that it
might be easier said than done, but once I got in a rhythm, it wasn't awful. I found a pace that I could comfortably keep
and even experimented with how my foot was striking and the type of stride that
I was taking. Enjoyable? Not so much.
Interesting? Actually, not bad.
I ended up with a 35 minute session which is longer than the
actual program, but shorter than the running session I did on Thursday. I only managed 4.05KMs, but I did it at a
higher average pace, finishing with an 8m39s kilometer (which is very close to
what I ran at Wasaga and higher than Thursday).
I burned 515 calories and don't have any heart rate numbers because I
wasn't wearing the strap.
Hopefully we will be going out for a ride tomorrow (I have
Monday off) and then it is back to work, eagerly looking forward to more riding
on the long weekend and 54.40.
Beez