Well it has been a busy week since last we chatted
(actually, not really). I have been
resting my extremely sore right ankle since the last BFL game and it has thrown
a wrench into my plans. I know I (probably)
shouldn't have played, but I love football and it is a great group of people
that I play with. Normally three or four
days and I would be back on my feet, but with about a week left in the
Challenge my ankle started squawking. I
guess adding some football was a bit too much for it. You can say I told you
so, but I don't care, it is what it is.
I had full intentions of spinning last night, but the season
finale of Castle reeled me in (and I had to start two hours early at work) and I
just couldn't scrape up the willpower.
When the alarm went off this morning I still didn't for a second think
that I was making it (I'm sleeping because of the Melatonin, but I'm groggy in
the morning and the last couple of days I haven't been rested), but somewhere
deep the 'voice' (maybe my sub-conscious?) yelled until I was mobile. It was a touch and go drive, but I got there
in one piece and there were no fatalities.
Even with the time off though, the right ankle was SCREAMING
for the entire workout. The decision has
been made though, pain or not, motivation or not, this is something that MUST
be done. If the ankle breaks, then the
doctors will fix it and we will continue. So pain or not the plan for today was
a cardio-chest and arms-cardio sandwich with a side salad of aching.
Treadmill – 30 minutes, 1.83 miles, 406 calories
Pectoral Flyes – 5×20 @130lbs
ISO Incline Chest Press – 3×15 @ 40lbs
Triceps Extensions 2×15 @80lbs and 3×15 @65lbs
Shoulder Press – 2×20 @40lbs and 3×20 @30lbs
Elliptical – 20 minutes, 2,915 strides, 286.7 calories
'Ski' Elliptical – 10 minutes, 1.16 miles, 189 calories
As you can see the 'meat' of the sandwich was a little bit
thin today, but truth is I ran out of steam.
There were some slow people on the machines and I just didn't have any
gas once I got to the shoulder press.
Even when I down shifted the weight, I was still struggling to get it
pressed (which is not a good sign since I was only gone a week). The key is
going to be stringing some workouts together not only this week, but for the
rest of the month.
Went and saw Dr. Spin tonight and he threw down on the
ankle. It was stuck, locked, jammed, in
short f@cked. He reefed on it and there
was nothing but the popping and crunching of scar tissue letting go. Blessed
RELIEF! We hit the swelling next and then ran current through the area for 25
minutes. Got home and Momma C was
visiting and had a homemade schnitzel dinner waiting for me. Are you jealous? You should be (sorry Eva, I know
it's not on the meal plan, but this week went to hell in a hand basket right
out of the gate). Now if I can just keep it working until the Ride for Heart…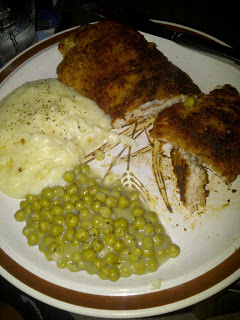 Beez