Well the exercise plans for the week kinda went off the rails right after the last spin session on Spritz. Now it isn't that I didn't want to, wait, it was because I didn't want to. It was a little hectic on the back half of the week and I was at work a little later than usual on a couple of nights because of visitors and technical difficulties.
Now I headed to Brantford on Saturday morning after a late visit to Phaedra, Gary and the family (and some awesome chili and a red velvet cupcake). Once there you know its BFL time with the gang and it was a crisp morning to say the least. It was a tough game for our team on the scoreboard and a tough day for me with the right ankle. I had a couple of tough catches (including a three bobbler that I just missed), a touchdown throwing and one receiving. The problem was on a ho-hum play (little 8 yard out to the left side), but while I was stopping, something gave a little 'pop' on the top of the right foot/ankle.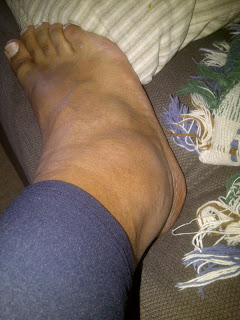 Now it felt like a sprain or a jam (which happen a lot to me) so I kept playing, but as you can see from the photo above there was a bit of swelling. Now by a bit I mean a lot. What can you do? We finished the night at Jim and Patti's for a Xmas get together and a little social time.
First thing Sunday it was off to help the Jolly Fat Man wish Christmas tidings to 90 kiddies. After the heat and the suit and the lifting of the kids, I'm counting that as a workout too!
Santa Beez