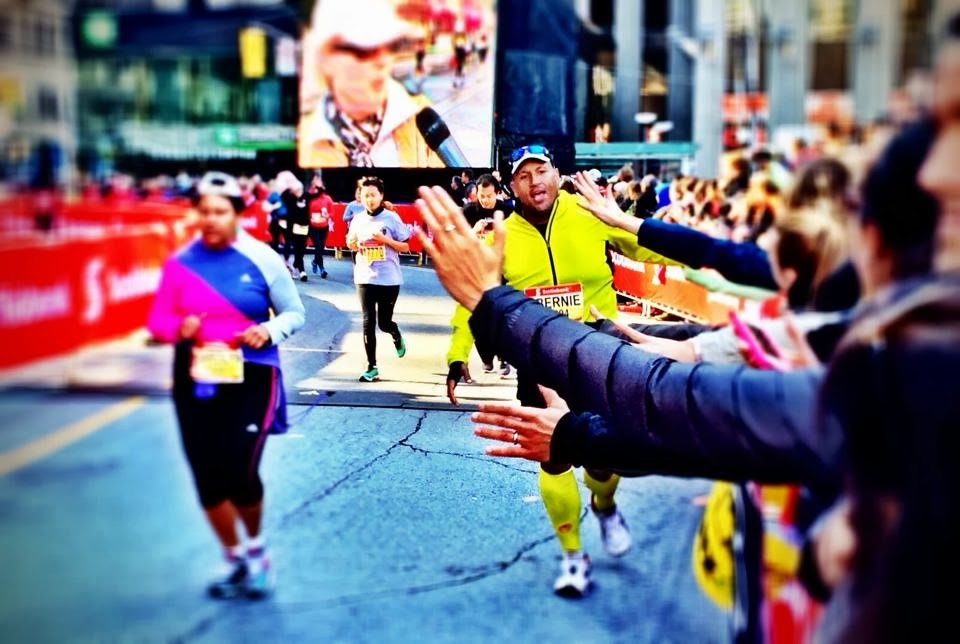 Last Year's Home Stretch
BEEP! BEEP! BEEP! BEEP! 1 eye half open and
trying to figure out what this sound was and why it wasn't stopping. My
hamstrings were already awake and complaining about doing Deadlifts and
Pistols. I wanted to turn over and sleep until Monday, but I haven't Run in 10
days (trying to rest the hip and knee) and I know that the Half is coming.
Marching ever nearer every day. My 'Speedy' Virtual Training Partner is
tackling the hills of Kitchener and I feel like I am way behind. Up, dressed
and out the door on chilly Friday morning.
I need to get some KMs so I decided to do
something crazy. Run up Yonge St. Just for the record, when you run up Yonge St
(north), you are running uphill. My makeshift route was Yonge to Finch, east to
Bayview, south to Sheppard and then home. Total distance was 8.34KM in
1h00m17s. I was starting to freak a little bit, because I was out a lot longer
then I originally planned. I was pretty happy with the pace though, 7m14s/KM
which is right near where I need to be.
The Garmin says that I burned 1,109
calories (all before 730a) with an average heart rate of 144BPM and a max of
160BPM. My cadence average was 156SPM with
a max 176SPM. It was chilly this morning and I finally managed to be appropriately
dressed for my run. Hopefully I can keep that streak alive as I shoot for 80KMs
in the month of September.
After a long day of work, @SavannahJessie and I headed to the Rogers Centre for a little late season Blue Jays Baseball with @KatherineEFera and @ChrisMoncayo. A big thank you to @NipshankFF for the great seats. The dietary choices I made weren't necessarily the best, but I kept everything respectable. @KatherineEFera and @ChrisMoncayo also decided to give me a microphone as the MC for their upcoming wedding (THANK YOU), I hope they realize what they have done.
Beez