Do you know what Teacher Vision is? Of course you do, you've
slacked off in class at least once in your life (I have for sure). You think
the Teacher isn't watching so you proceed to not do what she (Jillian) told you
to do. Guilty right here. Busted. Yup, yesterday morning with a BBM asking if I
had been on the bike/spinner that morning. Damn, I thought she had forgotten
about checking up on me (Tavia is a very busy lady), but turns out she hasn't.
Crap.
So as the alarm went off this morning and I was being
informed that the Leafs lost in OT (expected), I contemplated how my morning
was going to unfold. First I thought about breakfast and the new Eggsmart that
has just opened on the corner (and how I have had smoothies every day this
week). OK, western omelette (pictured below) it is, but only if I get up and
spin. Lord knows if I bail again I will get another message and I definitely don't
want to disappoint my Coach again.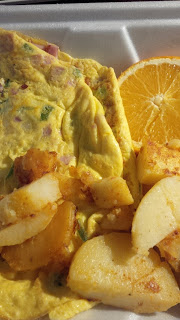 So with a backlog of Castle/Blue Bloods/Hawaii Five-0 on the
PVR, plus the Giro d'Italia on, I setup and got peddling. It doesn't hurt that
the Ride for Heart is only 3 weeks away and I will be on the bike going 75KM
(feel free to sponsor me if you have some extra change laying around… check the
sofa cushions). Don't let anyone tell you otherwise, that is a long way to go
on a bike. Anyway, back to this morning. 15.13KM covered in 29m15s with an
average cadence of 88RPM. WOOHOO! If I can
keep that up on June 3rd, I will slaughter my time from last year.
Average heart rate of 133BPM maxing at 143BPM (still outside the optimal range
Dr. Spin wants me at).
Crossfit tonight,
Beez