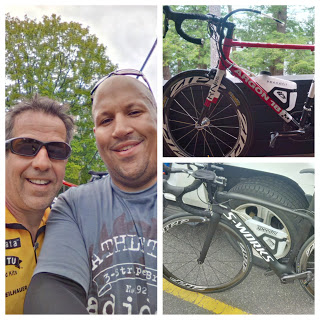 Happy May 2-4!! While it would be awesome to be idle all
weekend and do nothing but drink and eat non healthy nutritional options, this
kid and @Keilshammer broke out the wheels. Saturday was our original ride day,
but with tender hips and 6 hours sleep I wasn't really up for it. Queue the
rain Sunday morning (seriously???). The clouds cleared and we headed to the
start point in the sleepy hamlet (it might not even be hamlet sized) of Torrance.
@Keilshammer with his new stealth black S-Works Venge (he will be accepting
suggestions for a name to his Twitter, help him out).
I was breaking in a new tire (friggin $160 later to replace
a stuck valve), not as exciting as a new bike, but that's life. We crossed
Highway 169 and I realized that I forgot to transfer the magnet to my Zipps so
no live speed data on this ride. I still had my Garmin, but with the amount of
sand and the crappy road conditions there wouldn't be any staring at it. I was
worried today about being able to keep up and I was curious to see how CrossFit
would affect my riding. The answer
became apparent on the first climb…
HOLY CRAP I WAS STRONG!
No laboring, in the saddle the whole time and not even
breathing hard. That's the final straw, I
you haven't tried CrossFit, when you finish reading this blog, go try it. It has
made me a better cyclist and a better runner. Endurance, weight loss and
strength (not to mention the incredible people), ok, I will stop gushing now.
We finished a 41km ride in 1h33m at an average speed of
26.4KM/H. Now being this was first ride we were moving, but by no means were we
in race mode. Still when compared to last year we were faster by 1KM/H. Add to
that endurance (I wasn't breathing too hard at any point) and only a minor bit
of fatigue in my hips and I'm thinking WIN! I didn't labor like I normally did while
climbing and @Keilshammer never lost me. We were carrying +38KM/H speeds
through a really rolling section where he normally pulls away and I was right
with him. My average heart rate was 134BPM and I maxed out at 164BPM.
We were going to try and squeeze a brick run after the ride,
but we didn't want to leave the bikes out.
Hopefully we'll get a good walk in this afternoon and a run
tomorrow. It will be interesting to see
what kind of legs I have…
Beez