Did you miss me?
Sorry for the little hiatus in postings, but with Family Day weekend and
the tweaked knee, I was hoping that a few consecutive days off would help me
heal up and get ready for the push to my birthday. Before we get to all that,
there is some HUGE news that needs to be passed on to you. Wait. For. It. I AM
AN UNCLE!!!!! This morning my Sister Susan and her husband Naveen welcomed
Willow Crawford Joshi into the world. I
am soooo excited to meet her Sunday I don't know what to do with myself. This little bundle of awesome finally made
her appearance and Mom and Baby are doing great!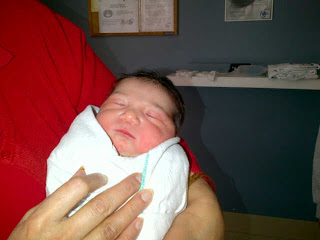 Warm-up
30 Skips
30 PVC Front Squats
30 Skips
15 Bare Bar Front Squats
30 Skips
15 Bare Bar Back Squats
Now Willow shares a birthday with @Keilshammer and he was
celebrating a landmark birthday of his own.
Welcome to the Half Century Club! In honor of this very important day
@CrossFitCanuck let Hammer choose the WOD of the day. I was actually hoping for
the 30 minutes of lying on the mat with your eyes closed, but he chose The
Filthy Fifty. Before we got to that marathon though, we had 10 minutes to find
our 1 rep max in the Back Squat (another @Keilshammer favorite). We worked
together tonight and managed to raise or PRs to 305lbs (from 285lbs for me and
295lbs for Hammer).
FILTHY FIFTY (please note it is CAPITALIZED)
50 Box Jumps (I used 3x 45lb plates)
50 Jumping Pull-ups
50 Kettlebell Swings (@50lbs)
50 Lunges (Knee issues here so Tavia modified me to Air
Squats)
50 Knees to Elbows
50 Push Press (@45lbs)
50 GHD Back Extensions
50 Wallball (@20lbs)
50 Burpees
50 Double Unders (150 skips because I still don't have DUs)
40m04s later I was finished (and utterly spent). That was
not only a hard workout but also a long one.
Every member of the #530Crew knocked it out of the park tonight and
finished strong. I have a special thank
you to Anne and @SarahBassels for the encouragement they gave me while I was
struggling with the Burpees (basically I was struggling with anything that
involved bending the knee). Well done to the ladies mentioned above and
@Wardy_, @DefconRX, @paulperena, @girmantitov and @Keilshammer (who finished in
a time of 34m59s).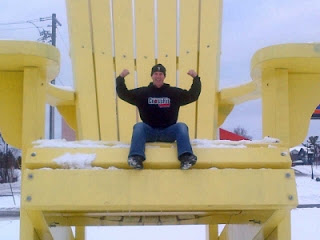 My thumb is finally starting to feel better, but I hope that
this knee won't limit me. There are a
lot of big WODs coming up in the next few weeks along with a 30 Day Paleo
Challenge starting Sunday. Before I leave you for the night I also have a big
congratulations for Sue Ann and Tavia (I told you there was lots going on), you
guys are awesome!
Uncle Beez