Seven minutes doesn't sound like a lot of time, but let me
tell you when you spend those 7 minutes with Karen it is an eternity. Who is
Karen? For those new to CrossFit, there are specific workouts called the 'Ladies'
and the others called the 'Heroes'.
These are workouts that are universally common to all CrossFit Boxes
(gyms). Today was a tough one (tell you why in a second) and in true Jeopardy
fashion, I talked myself into a Hero AND a Lady.
Saturday @Wardy_ (attending her first CrossFit class) and
@Keilshammer headed to @CrossFitCanuck for the Saturday morning WOD. Sadly due to my extended Christmas party
Friday night with a newly discovered Paleo beverage (Maple Bacon Bourbon
Manhattan) I was in no shape for physical activity. The WOD included a round of Karen (which is
150 wall balls). For some reason I had yet to do one of the Ladies (get your
minds out of the gutter) and deep down I felt I needed to try one. Thanks to
@Nipshank_FF I attended the Seattle vs Buffalo NFL game at the SkyDome and
thanks to the blowout, I departed a little early (and possibly a little
inebriated). Who should I run into
walking down the green ramp (bearing in mind there were 40,000+ people in the
building), but Tavia and Sue. Somehow I talked myself into doing Karen after
the WOD of the day Monday (and they posted it too! Great motivation).
Warm-up
800m Row
2 Rounds of
5 Pull-ups
10 Push-ups
15 Squats
20 Sit-ups
So after I a LONG evening with Denis watching football and
having to stay up late to watch the 49ers vs. Patriots game (and yes, I knew
the whole time the 49ers were winning), I was not shiny on Monday. I also have
a nagging suspicion that I may be coming down with something. When I rolled in to box, I wasn't sure I was
even going to be able to do 1 WOD, never mind 2. I was struggled to get through
the warm-up, but I sucked it up and we got serious.
10 minutes to find 1 RM Drop Snatch (@65lbs)
5×2 reps Front Squat (@125lbs PR)
Buy In
2x ME UB 'V' Ups (8 reps, 5 reps)
Hero WOD 'DT'
5 Rounds for Time
12 Dead Lifts (@95lbs)
9 Hang Power Cleans (@95lbs)
6 Push Jerks (@95lbs)
Cash Out
3×7 Kettlebell Windmills (@25lbs)
Total time to finish DT was 13m45s. I was totally gassed and really had to dig
deep and refocus. Here is why I love
CrossFit and the 530Crew. Anne, Silky and Zach who had just finished the Hero
WOD (and had made no verbal commitments to do Karen) all grabbed medicine balls
and joined me. It's amazing how having supportive people with you really gives
you a boost. We all worked super hard
and we ALL finished Karen. I clocked out
in 6m58s using the 14lb medicine ball.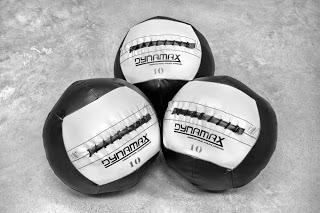 So I've learned that chirping after a few BEvERages isn't
always smart and that the folks at @CrossFitCanuck are Awesome. Hopefully I can keep this up!
Beez