Welcome back to Muskoka (it seems like I just left… oh with I
just did) ladies and gentlemen. I've
returned to throw two rides together for some serious long distance
training. The original plan was to ride
50KM on Friday morning and 78KM (around Lake Jo) on Saturday morning. Pack up and head to Kitchener to celebrate
Oma's birthday. It is going to be an
action packed weekend with lots of miles on both the Red Rocket and the
Fusion. I'm not going to lie; I'm a
little bit worried about the Saturday ride because of the speed that my riding
companions are capable of. I did find
out why I was having so much trouble with my pedals on the last ride, see the
picture below. Seriously, who breaks a
cleat.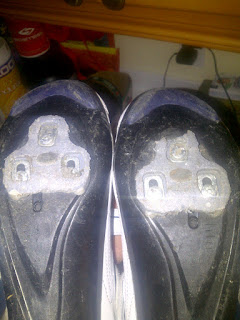 Friday morning did not start off on a positive note. We woke
up and it was chucking rain. Brutal, but
not awful. I've never ridden in the rain and I was a little bit concerned how
my tires would handle standing water and wet roads. Today's group was Myself, @Keilshammer and
Steve K. Ten seconds in and we were
soaked and once we crossed highway 169 we had to pause for a train (seriously that's
the second one in three rides) and I realized that keeping up to the Steve's
was not going to be in the cards. Their
average speed was in the low 30KM/H and I was working hard just to keep them in
sight. I didn't want to burn my legs and
be useless tomorrow so I decided that 40K would be my ride and they could
complete 50K at their pace.
I still seem to be having trouble carrying speed up the
hills, but even riding on my own I raised my highest average speed a bit to
27.6KM/H up from 27.3KM/H. This doesn't
seem like a big deal, but I had no one to draft with and that folks makes a huge
difference. That's why you rarely see
Tour de France riders on their own (unless they are trying to breakaway). My
ride was 40.08KM and I finished it in 1h27m95s which is about what it takes to
commute round trip to and from work (the commute is 8K less). My average heart rate is 155BPM and I maxed
out at 169PBM burning 2,790 calories (woohoo!).
Now I said that today was a milestone and here is the
news. I have been tracking my distances
when out on the bike, walking or running (but not using the treadmill as part
of a normal gym session). All of these are tracked using a website called
Dailymile and allow you to keep track of what you do. Last year on December 30th, I made
it to 1,000KM (
https://bigbrnz.com/?p=685
). It was a pretty exciting
day. Today is more exciting because on August 10, 2012 I hit the 1,000KM for
the year! Four months earlier than last
year and well on my way to the goal of 1,500KM.
Tomorrow's long ride isn't looking to good thanks to an
increase in precipitation, but if it happens, you will know about it.
Beez