Well let's start off this festive edition with a big "Have a HAPPY CHRISTMAS and a MERRY NEW YEAR!" wait. That's not right. "Have a MERRY CHRISTMAS and a HAPPY NEW YEAR!" Thanks to the calendar and some odd lining up of celestial bodies, we have Christmas Eve (complete with football) and BFL falling on the same day. I backed up the ol' Red Rocket while it was still dark outside and headed to Brantford early on Saturday morning and met up with Denis to play some serious morning football.
Now if you remember what happened last time I played, there was a 'slight' injury and accompanying swelling that goes along with it. I seriously need to have someone carve this thing up and fix it. Now the swelling dropped over the next few days and everything seemed to work fine after that. Problem is it doesn't seem to matter what I do, the stupid thing just isn't working properly. As I was warming up, I stepped back to throw and 'POP'…
Well that didn't take long…
For the remainder of the day, it looks like I will be playing on a sore wheel. Now before you rip into me for playing, I will tell you the same thing I told my Mother, "I won't be able to lose weight sitting on my ass. So if it takes injury and short term pain to get to where I want to be, I just need to get used to taking Advil". See what a chunky brother has to go through to lose those last 75 ponds…
It's too bad we seem to be on a negative streak playing football the last couple of weeks, because I've been on the losing side the last couple. The ground was frozen, but not terribly hard so footing was pretty good. It was a little brisk outside, but Under Armour from head to toe is enough to keep a person nice and toasty (especially once you start running). Lots of running while we were playing, but there was no top gear (no I know you may be laughing, but I am extremely quick over short distances). Funnily enough, there weren't even the top three gears. It seemed I would be playing in first and second.
Now there were a couple of positives, I did make a couple of nice throws, including a beautiful deep ball to Rod in the corner of the endzone. I threw a pair of TDs and caught another, but that was about the end of the positives (except where I made the beauty defensive play on Denis). While I was recovering our coffee cups to toss in the trash, the teams voted me MVP (now this may have been a plot to make sure I came to play New Year's Eve), but I would like to think it was because as bad as the game was overall, I worked hard and tried to keep everyone motivated.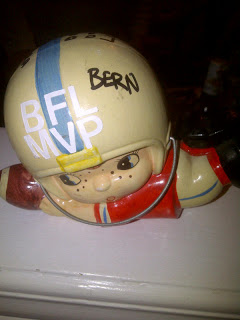 That's it for a couple of days, Turkey awaits! There are still 63KMs to complete on the bike before the calendar rolls over into 2012, so it looks like upon my arrival back home December 29, it will be straight to Spritz.
Merry Christmas,
Beez