Happy Long Weekend People! As I sit here typing this blog entry, I'm enjoying a lovely lake Muskoka day. Please see the picture posted below. Thing is I had to recover from a very eventful 24 hour period up here in cottage country. Buckle up, because in the words of the Joker (from The Dark Knight) "Here, we go".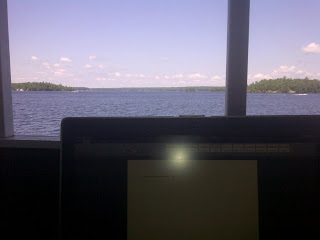 It seems the wheels came off of work about 3pm on the Friday before the long weekend (go figure). I was tired having been there the night before until 9pm (I highly recommend not doing that. I did make a good decision though, as I left I was going to grab BK, but changed my mind and went home to eat healthy). When I finally managed to get on the car packed and on the road I was smack in the middle of traffic (I did miss a bunch thanks to 680news). As I got to Gravenhurst I still hadn't had dinner (after talking myself out of Weber's) and was going to settle on McDonald's. Thanks to a timely message from Sam I bailed on that and had a healthy dinner of BBQ chicken and rice.
Excellent! (To be honest, we did stay up late and I drank a mickey of Rye, forgetting that Steve and I had planned to ride the first half of 100 KM at 830a).
Cue the birds and the Sun. Steve knock and the door and asks if we are still riding at 830a. I look at the dim morning light and say sure, and ask the time. 820a. Crap. Up, shorts, tires, toast, water and on the road at 845a. I wasn't hung over, but I was not really a fan of pedal power, but if this is what it takes to get out, then this is what it takes.
We were riding a 'new' route today, the Torrence Barrens. We had tried this a couple of years ago on mountain bikes, but I was having tire inflation issues and we only went in a couple of KMs. Today however, with the road bike it was a totally different experience. Once we got through the first part which is fresh asphalt and into the heart of the Barrens, we found a nice hilly (not as bad as Hwy 38 because there was no headwind) road with lots of twists and turns and almost zero traffic. All very good things.
At this point I will break for a second and tell a little story about our first ride. Steve and I get a couple of clicks in and cycle past 4 OPP cruisers that are parked across the road like a checkpoint. We get through (no one stopped us) and remark that it was odd to see that. We continue down the road and meet about 20 OPP officers in full camouflage coming out of the forest at various locations and walk down the road. Fearing an escaped homicidal ice cream salesman, we cut the ride short.
This trip we are 15KM into the ride and we start seeing people, not OPP but other cyclists out and about enjoying the great weather. We make the turn at 20KM (I was seriously gassed and probably dehydrated from the Dr. Phil drinking session the night before) and I am counting down the minutes until we are done. The first 20 was finished in 44 minutes and some change of pretty good pumping. The way back was a little more trouble. I couldn't get comfortable in the saddle, don't know why (might be the shorts) so it was a tad unpleasant. Now we started seeing lots of riders (including one lady who thought was topless with her jersey open) in groups of two to four riding this sweet piece of road.
Steve put the hammer down with 10KM to go (he wanted to squeeze a run in) and I was riding alone. I wasn't going to quit or slow down though. I sucked it up and put the hammer down. I finished the second 20KM in 50 minutes and Steve only beat me by five minutes. Considering he's half my weight, I will gladly accept that time. This ride first thing burned 3,077 calories and I was a little jelly legged when I got out of the saddle. I think on Monday's ride I will make sure I have some GU with me to make sure my body has enough to burn. Sunday is supposed to include a run with Kris, but we'll see, I might take it easy and just hammer the 60KM of our Hwy 69 ride on Monday.
Off to 54.40!
Beez