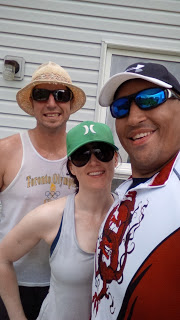 After a tough week of CrossFit, I was headed to Brantford for
the weekend to hang out with some of my favorite people. I wasn't sure what was
in store, but I had the mountain bike loaded and fun always seems to happen
when we get together. With everything that has been going on in life, I was
very happy to see the weekend approach. Combined
with stress, continued sleep issues and this deltoid issue, my Challenge hasn't
come flying out of the gate. I'm making
great progress in workouts, water and sleep (I am getting more than 7 hours, it's
just very broken), but food wise I have scored 0's 4 days this week. It's not
like I'm camped out with a brick of cheese, but you want to be honest so the
points are lost. The biggest news by far this week is that @phillyk_007 has
turned the corner and is on the mend, hopefully we will see you soon PK.
After I finally made it to Brantford and had a chance to
unwind (that's why we invented Rye Whiskey), we headed to bed early and I managed
to have a good nights' sleep. Now after managing to forget one of my two floor
pumps at home, Denis came through and we got the old mountain bike pumped up
and ready to go. We headed out to Mount
Pleasant for some action on the tennis courts. It was 5.25KM each way and I haven't
ridden the big machine since last year. I honestly felt like I was driving a
Hummer (the original one, with the machine gun) on the bike path. Damn that bike is heavy. We lucked out and
even though it was smoking hot (and humid), it was overcast else it would have
been 40 degrees. Average speed was 20.2 KM/H (huge difference between this and the road rocket) with an average heart rate of 131BPM, maxing out at 151BPM.
We rotated playing 2-on-1 for about 2 hours and once again
the differences in my body were pretty amazing. I felt fast and managed to get
to a whole lot of shots that I wouldn't have stood a chance of getting last
year. I still have lots of work to do on my actual tennis skills, but when I do
manage to clear the net and keep it between the lines, I did make a couple of
nice shots. It was a great afternoon (Thanks Lisa and Denis), hopefully soon we'll
be able to have an away match in Toronto soon.
We made the ride back (5.25KM) and spent the rest of the day
lounging on the patio and enjoying the weather (and tossing the football). We
didn't get up to too much after that (except for a couple of games of Golf and
a couple of Sequence) because the sun, weather and heat took it out of us.
Thanks again for hosting!
Back on track Monday…
Beez