Well at a quarter to the crack of early (4:45am), @Wardy_,
@Keilshammer, @hoodieruns and @Ed_markwards dragged ourselves out of bed,
loaded 5 bikes and various accessories into the car/truck and headed down to
the 2013 Becel Ride for Heart. Dredging back memories of the 2010 ride, we were
not destined to have blue skies and sunshine, instead we got a healthy dose of
POURING rain (for the first 40 minutes).
Riding becomes less awesome when your feet get soaked, but when you're
riding for a cause as important as this you suck it up and keep pedaling. At
least this year it wasn't 8 degrees Celsius, so while we were wet, at least we
weren't wet and freezing.
Aside from 1 mechanical
issue (@Wardy_ got a big assist from the gents at Sporting Life) the 75KM
Riders got out the door mostly on time and onto the route. As much fun as it is
to put the hammer down and ride as hard as possible, this year we agreed to stop
a couple of times to take photos. @Keilshammer
and I tackled the first portion of the course and we had a pretty good pace
considering it was very wet and windy (the drawback to riding Zipp 808 wheels
is that a stiff crosswind can have you fighting the bike for control). We
stopped at the top of the York Mills hill and snapped the photo below. If you've
never ridden in the Ride for Heart, please consider it. It gives you an unbelievable view of Toronto
from a unique vantage point and there is a route for every skill level (even
little kids with training wheels rode the 25KM route).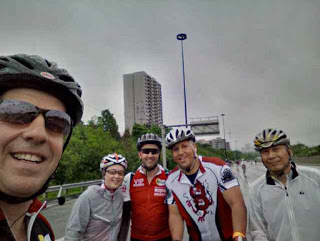 I wasn't feeling tip top by the time we got to this
point. I didn't sleep well and I was
having serious reservations about the 3 CrossFit classes I did
Tues-Wed-Thurs. It wasn't that the
classes were crazy tough, but my hamstrings were complaining seriously after
the 11 days off and the 42.5KM ride on Monday.
Things did start to look up on the way back down after the first
turnaround and I started to find my groove. What CrossFit has given me (besides
the weight-loss), is an unbelievable amount of strength and cardio endurance.
There wasn't any point on today's ride where I felt winded or redlined. We
headed back up for the big hill and @hoodieruns, @Ed_markwards and I had some
serious hitch in our giddy-up. In fact my pace was so good that I turned around
and realized I was on my own. I tried to get a sub 2h40m time, but it wasn't in
the cards.
Ride Stats
Distance 75.60KM
Time 2h48m23s (-6m13s)
Average Speed 27.0KM/h (+0.7KM/h)
Max Speed 60.4KM/h (+2.9KM/h)
Average HR 138BPM (-22BPM)
Max HR 162BPM (-17BPM)
As you can see by the numbers, everything was better than
last year and as a result I am a very happy camper. Even with the slackened pace
that we had at various stretches (waiting for people), my time and speed were
improved. The best part was how I felt
at the finish line. Last year when I climbed off the bike, I couldn't have gone
any further even I was being chased by an angry horde of Zombies. Today (thanks
to @CrossFitCanuck), I climbed off the bike with sore legs, but if said horde
had appeared I would have been good for another 20KM. Quite the change.
Before I close up shop and prepare to hit the sack, I was to
thank a few people. First, my teammates and co-workers (@Wardy_, @hoodieruns,
Alexis, @Ed_markwards, @Keilshammer, @CADPRO00, Dipesh and Steve K1) for
working hard fundraising and for showing up on a crappy morning to ride for a
great cause. Second to the @CrossFitCanuck family for helping me to improve so
much that this year's ride was leaps and bounds above last year's (physically).
Finally (and most importantly), 'Thank You' to everyone that donated to support
my ride (and Team @Keilhauer), we couldn't have done it without you.
Beez