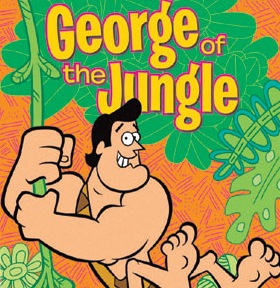 George, George, George of the jungle strong as he can be.
AHHHHHHHHHHH, watch out for that treeeeeee.
George never listened.
He always hit the tree. Clearly I didn't listen either.
Crrraaaappppp. Completing the Keilhauer
hat trick for car accidents, I lost traction leaving @Keilshammer's cottage,
slid backwards and came to rest against a tree. Hey, I just felt like doing
Mother Nature a favor and decided to give the tree some help standing up
straight. Damage to the left rear, but I was ok. After CAA decided they couldn't be bothered
to bring the truck in to help (and yes, I am pissed), @Keilshammer and I
managed to get the Red Rocket back on the path and out of there.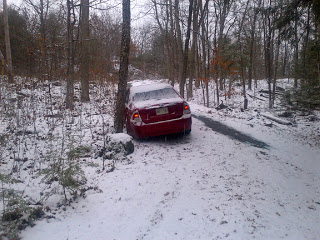 So after that debacle I was excited to get to @CrossFitCanuck
and get my sweat on. Little did I know,
that tonight's WOD was going to be an absolute killer. Wait I forgot, the warm-up was the killer and
the WOD was a weapon of mass destruction (with the mass being me). I will say
this though, Tavia keeps me moving and I haven't quit. The not quitting part may not sound like
much, but when you see this workout you will understand.
Warmup
5x Situps
5x Pushups
5x Squats
5x Jump Squats
You run from station to station, 1st no weight, 2nd
10lb plate and final 15lb plate.
By the time we were finished that, I was almost ready to cry
(not really but you get the idea). We
followed this up with a round of strength training.
Strength
Front Squat
1×5 @80% Max Weight
1×3 @90% Max Weight
1×2 @95% Max Weight
1×2 @100% Max Weight
I didn't have a max, so we worked up until I had set a new
personal best @ 115lbs. Tavia also gave
me homework. Lots of squats, working against the wall to improve my range of
motion. For me, the junk in the trunk (aka My Booty) is causing some balance
issues as I try to get my knees passed ninety degrees. We followed this up with the Push Press. Again I didn't have a max and I set a new PB
@ 95lbs. We could have added more, but we
were pressed for time. This is where it
got intense.
Chief (5 rounds at 3 minutes per round with 1 minute of
rest. Max reps.)
3 Power Cleans (Working at a new PB 115lbs)
6 Pushups
9 Squats
Yeah, that was harder than every football practice I've ever
had. So in the span of 20 minutes, I completed
10 rounds +13. I was absolutely cooked
by the time we got to the end. You would
think that after leaving it all on the gym floor we would be finished. Nice
try. 100 Ab Mat situps to cash out.
Now I'm spent.
Awesome Day! Don't want to do it again for a couple of
weeks, but I liked it!
Beez