Sometimes it's the little things that make all the
difference. It can be something you say or do and you may never know how you
affected someone's life. Today was one of those days and Jillian (Tavia) has no
idea how just a little nudge can get a big body moving. Tonight is the Gala of Light, a charity
fundraiser for Street Haven at the Crossroads (if you are free tonight come out). Dr. Spin's lovely partner
Shannon is putting on this event and it will be a blast, so much so that I have
tomorrow off. Originally I had planned to spin this morning so I would be on
time for the party (@CADPRO00 I'm still shaking my head at you) and put off
CrossFit. Then I was on the fence, go to
CrossFit and be late to the party. In
all likelihood I would have skipped CrossFit, not done any spinning and gone to
the party.
"Are you on the bike yet?"
A simple statement to someone who just needed that little
push and I was clipped in and pounding the pedals. It was not pleasant and may have been one of
the most difficult rides I've done since last June. My body and I have declared war on each other
(basically that's the feeling I'm getting) and it is fighting me every step of
the friggin way. DON'T YOU KNOW THIS IS
GOOD FOR YOU TOO???? Geez, you would think I was trying to bike the entire Tour
de France this morning based on how my legs and hips felt. I had my motivation
though and I wasn't going to stop.
18m48s ride to cover 10KM with a cadence of 91 and a very
decent tension. My average heart rate
was 154BPM (told you I was working) and I maxed at 161BPM. Tavia is definitely correct
when she says "3 breaths and keep going, the body can do it". 100% mental
today, disconnect the part of my brain that's screaming at me to stop because
it's "Too Tired" or it's "Too Early" or it's "Thursday".
Now there was other motivation for me this morning as well,
because just like Chuck Yeager, today I broke the BARRIER. That's right Ladies
and Gents, as I hopped on the scale this morning, those numbers lined up to
299.2lbs. This is a HUGE deal. I have been over 3 bills for as long as I can
remember and even though this is just a dip to the happy side of par, I'm not
done yet. Next stop is the goal I put on the board @CrossFitCanuck in January,
275lbs. After that it's wherever
CrossFit and Coach Jillian lead me.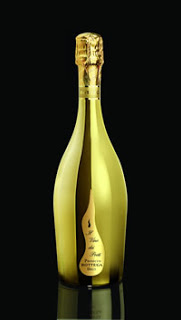 The gold bottle is on ice RIGHT NOW, but because
@Keilshammer and @Wardy_ are in Jamaica, I'm holding off on popping the top. So
to all you Canucks, you will really want to be in Monday's 530p class, because
afterwards we are raising a glass of bubbly to celebrate (Momma Bear's I will
bring in a non-alcoholic bubbly for you too).
Beez